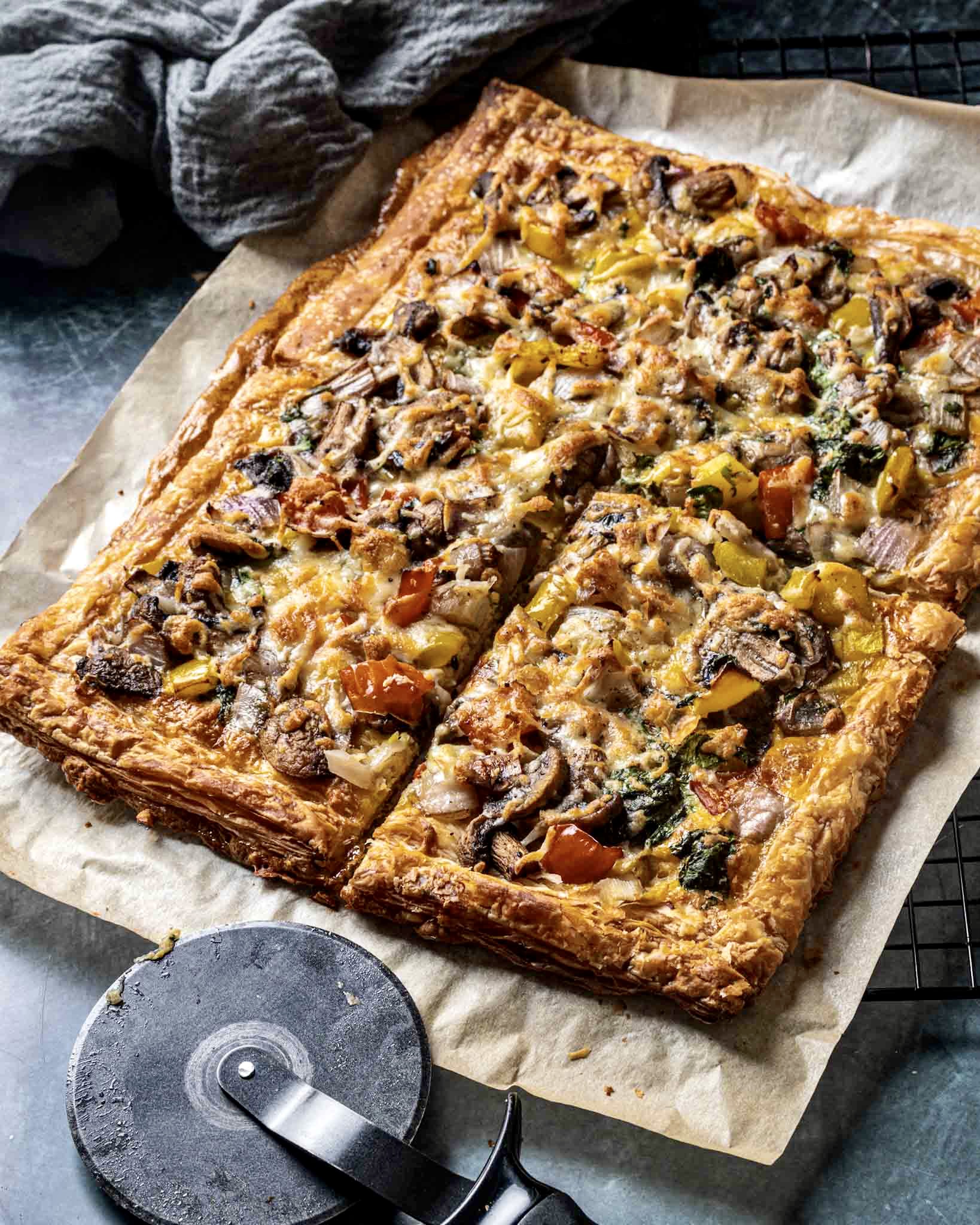 Savoury Puff Pastry Tart
Weekend indulgence looks like this for us. With store bought frozen puff pastry, veggies in my fridge peeking through the mesh bags, eggs, cheese and herbs, this made to be a super quick and deliciously, indulgent meal. This makes to be a fulfilling meal on a busy week day too.
The versatility of this dish is, you can use any vegetables or proteins of choice to make this. I have tried this with various vegetable options but for me, the one constant is shallots or onions. Rest everything is as per the availability and season. Using local and seasonal produce is highly recommended. I also like to use either pizza sauce or white sauce in it. Add a few spoonfuls of pesto after it is baked if using, instead of any other sauce. Using eggs is optional. I definitely recommend brushing the edges of the puff pastry with either milk or eggs for delicious crispiness. 
How does your weekend indulgence looks like and do you want me to share more such recipes?
If you like this savoury puff pastry tart recipe, let me know your thoughts in the comments below. You can also connect with me on my Instagram and Facebook handle.
You may also like – 
Oven roasted garlic vegetables
Savoury Puff Pastry Tarts
Quick, easy and made with common pantry ingredients.
Ingredients
1

pc

Frozen puff pastry sheet

1.5

Cups

Mixed vegetables

red onions, mushrooms, red and yellow peppers, corn.

2

Tbsp

Olive oil

Salt and black pepper

to taste

Sauce of choice

pesto/red pasta sauce

2

Pcs

Eggs

Whisked

Mozzarella and cheddar cheese

as required

Herbs of choice

oregano, thyme

Spices of choice

peri peri, paprika
Instructions
Thaw the frozen puff pastry sheet as per packet instruction.

Line a baking tray with parchment paper and place the pastry sheet on it. Roll it to desired thickness (approx 1/4 cm). Score the pastry sheet leaving 1 cm space from all sides.

Toss all the veggies in olive oil, salt and pepper. Lay them on the pastry sheet. Top it up with pesto or pasta sauce. Add the whisked eggs and add cheese. Sprinkle the herbs and spices.

Bake it in a pre-heated oven at 200 C for 20 mins or until the crust turns brown and veggies are done.

Cut a slice and enjoy with a glass of wine.

Cheers!!!