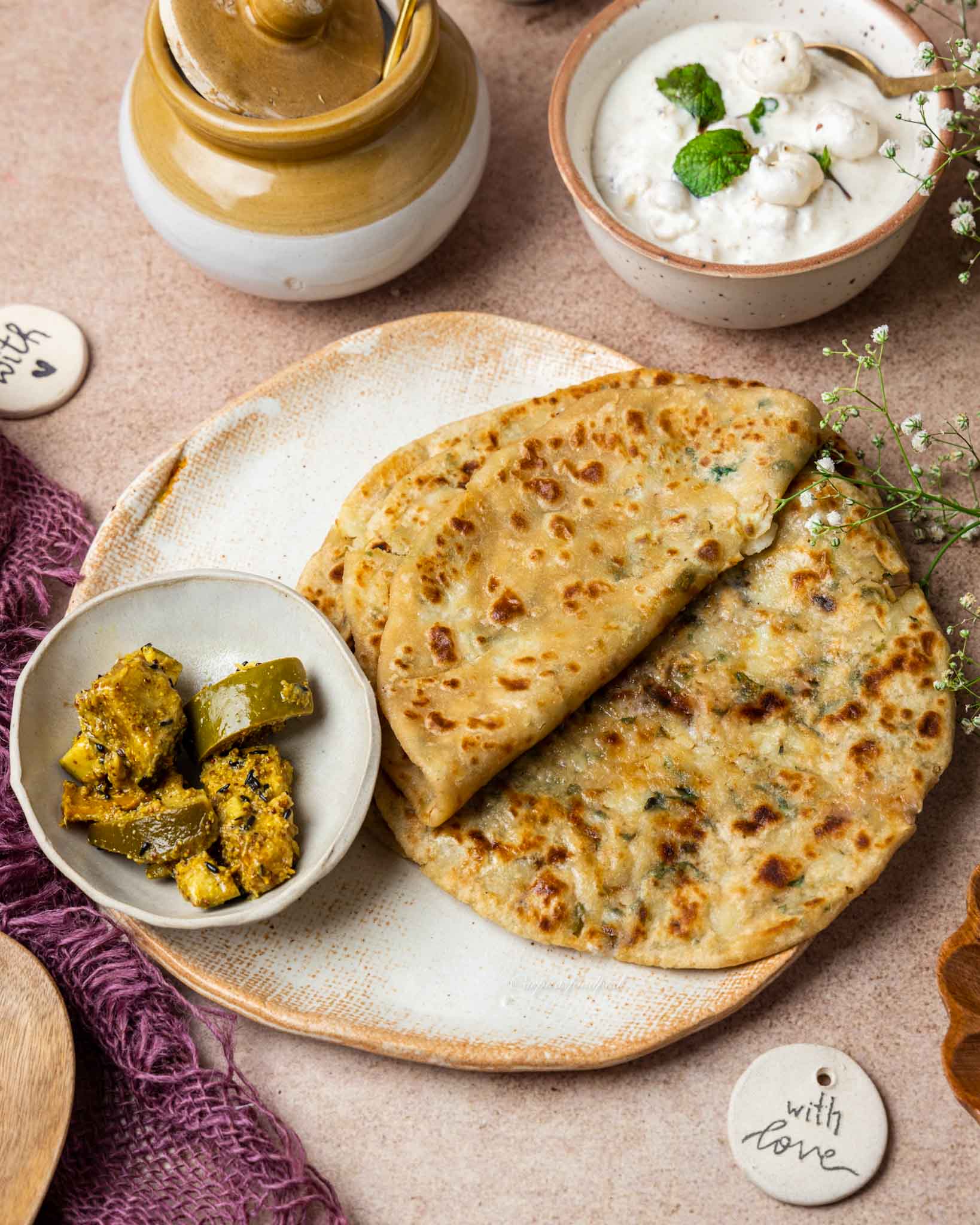 Aloo Paratha | Spiced Potato Stuffed Flatbreads.
One of the staple parathas in Indian families is aloo paratha. Whole wheat flatbreads stuffed with spiced potato filling, dunked in cold yogurt makhana raita and with punjabi mango pickle on the side, makes a perfect breakfast, brunch or lunch. We Marwaris love our parathas and this definitely takes the cake away.
Recipe – makes 6 parathas.
Ingredients – 
1 cup whole wheat flour
3-4 medium sized potatoes – boiled.
1.5 tsp salt
1 tsp cumin seeds
3 tbsp coriander leaves – finely chopped
3/4 tsp amchur powder
1/2 tsp red chilli powder
1/4 garam masala
1 tsp crushed green chillies and ginger
Oil/ghee as required
Method – 
Knead whole wheat flour with water as required into a soft dough.
Mash/grate the boiled potatoes. Mix in all the spices, coriander leaves, crushed chillies and ginger.
Divide the dough into small balls.
Flatten the dough ball into 3 inch diameter, brush ghee (clarified butter)/oil and spread the aloo filling.
Close the edges forming a flattened ball again and roll it to give a shape of roti/flatbread.
Roast on griddle/tawa with ghee/oil.
Enjoy!
Makhana Raita Recipe – 
Heat 1.5 tsp ghee. Toss 1/4 cup chopped makhanas for a couple mins until they turn crisp. Stir continuously or it might get burnt.
Whisk 1 cup curd along with 1/2 tsp sugar, salt to taste, 1/2 tsp roasted cumin powder and 1/2 tsp red chilli powder. Add a little water/milk if the curd is too thick.
Mix in the chopped and roasted makhanas and top it up with some mint leaves.
Enjoy with hot parathas!
If you like this recipe of Aloo Paratha | Spiced Potato Stuffed Flatbreads, I would love to hear from you in the comments below or connect with me on my Instagram or Facebook handles.
You may also like –