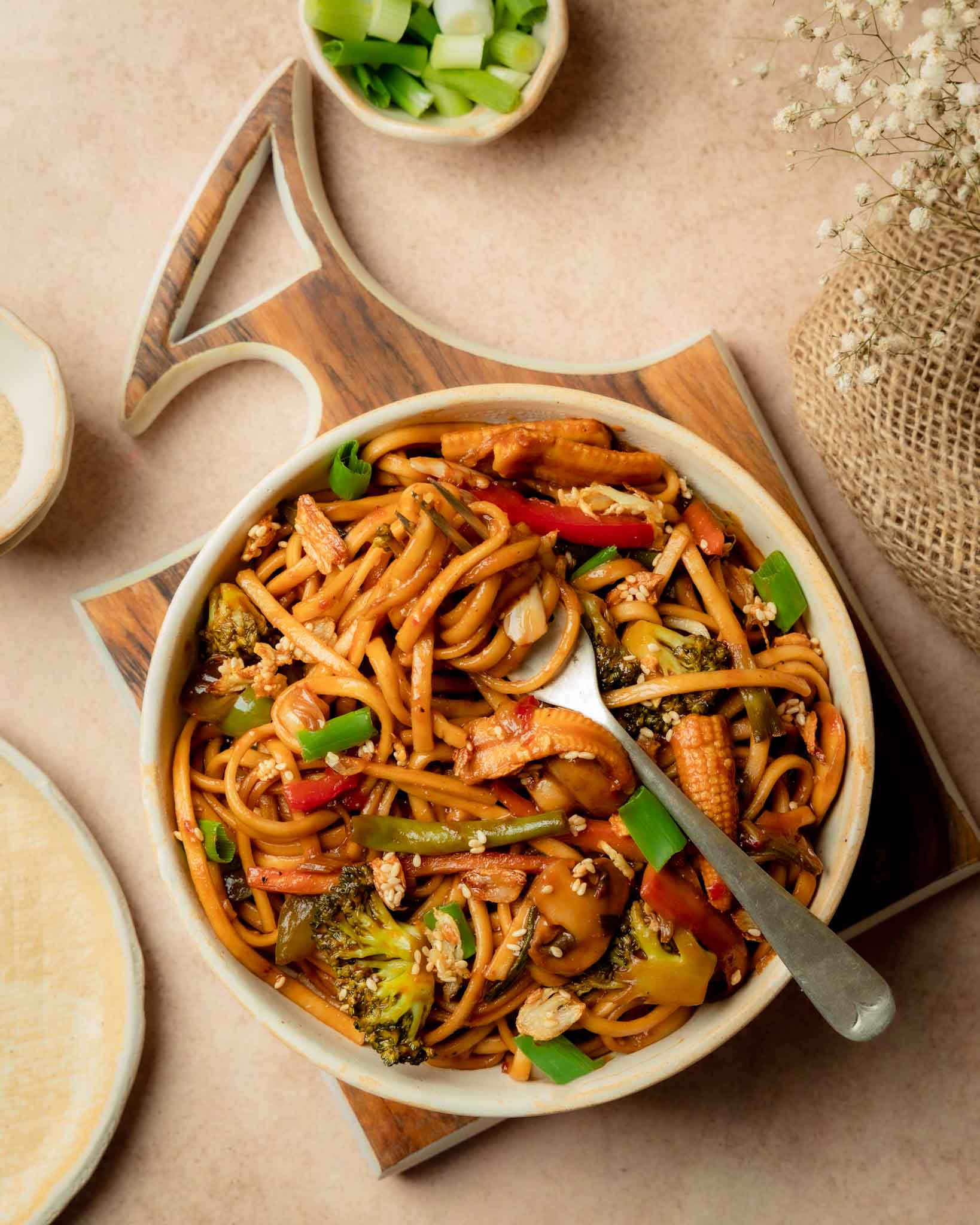 Vegetable Chow Mein.
What could be better than slurping on saucy, tangy, sweet, spicy and hot noodles on a cold winter evening. This one is so moist and saucy and do not require any further accompaniments. Just top it up with freshly sautéed crunchy garlic and toasted sesame seeds and slurppp away! I used the thick and chewy udon noodles for this but feel free to use any noodles of choice.
How to make this?
Ingredients – 
250 gms of udon noodles
1/3 cup spring onions
2.5 cups mixed veggies of choice – I used blanched baby corn, sliced mushrooms, blanched green beans, carrot juliennes, red bell pepper, capsicum and broccoli
3 tbsp cold pressed sesame oil
1.5 tbsp crushed ginger & garlic (use mortar pestle)
Salt and black pepper to taste
Sauce mix
3 tbsp tomato ketchup
2.5 tbsp soy sauce
1/2 tbsp rice vinegar
1.5 tbsp red chilli garlic paste
1/2 tbsp maple syrup/brown sugar
Top up – optional but recommended 
1.5 tsp white sesame seeds
2 tsp sesame oil
6-7 cloves garlic – crushed
Method – 
Boil/cook noodles as per packet instructions with a little salt. Keep a watch as you want mushy noodles. Drain them. (I don't rinse the noodles under water and rather add them to the wok from the boiling pot).
In a wok, heat sesame oil, add crushed ginger and garlic and sauté for a min. Then mix in the spring onions and sauté on high heat for another min.
Now mix in all the vegetables and continue to sauté on high heat until the veggies are cooked but maintain their crunch.
Then mix in the sauce mix and add the cooked noodles. Now taste and then add salt and black pepper as desired. Mix gently and well.
For the top up – heat oil again, add garlic and sauté until it begins to change colour. Mix in the sesame seeds and sauté for 30 secs. Top up the noodles with this and serve.
Enjoy!
If you try this vegetable chow mein recipe, please let me know in the comments below or chat with me on my Instagram or Facebook handle.
You may also like –