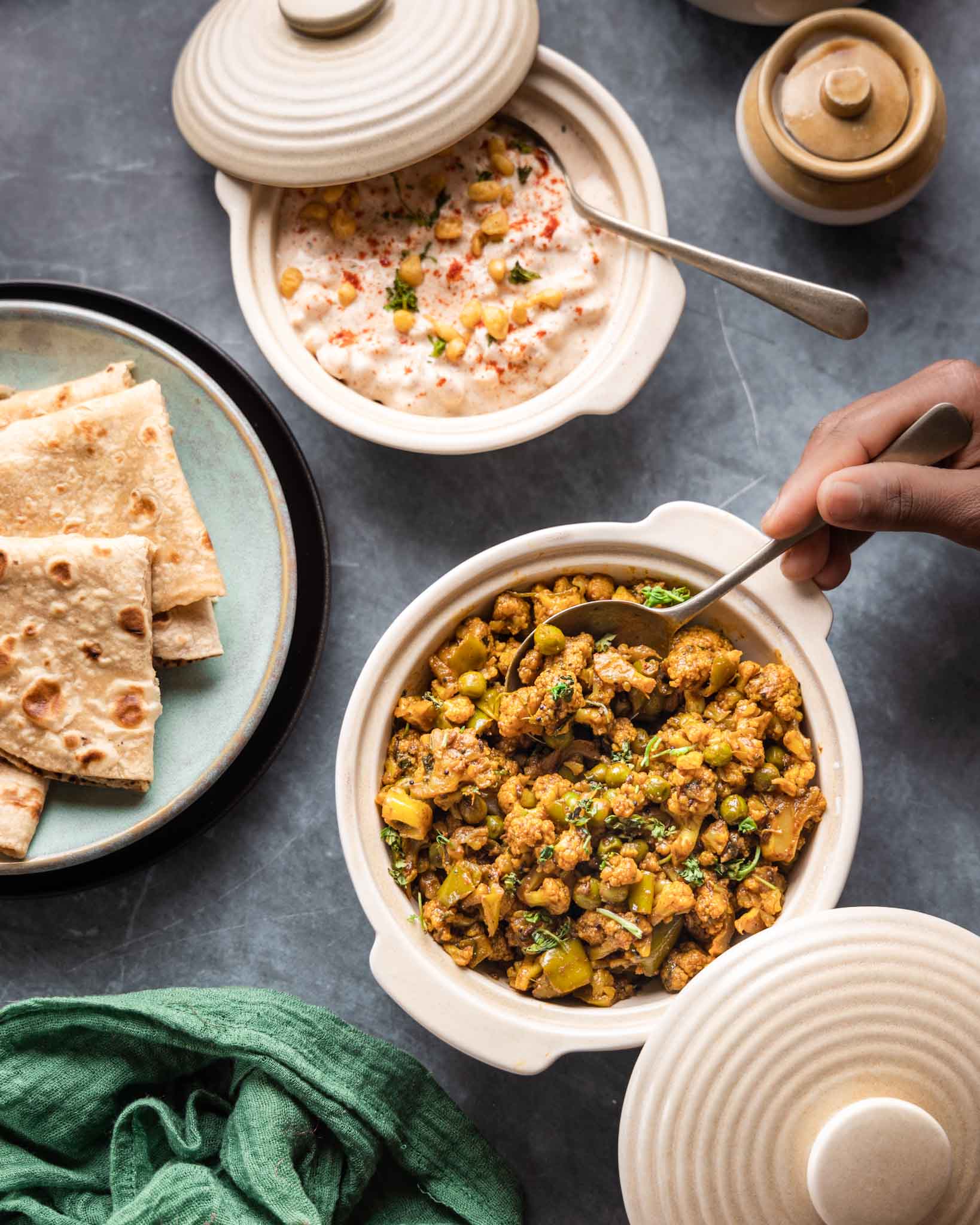 Gobi Matar Shimla Mirch Sabji | Cauliflower Peas Capsicum Stir Fry.
A pretty common lunch sight at our home. The comes together quick and uses just a few spices for this beautiful taste. Did I already mention, it's vegan too! However, we either pair this with varieties of raita or tadke wali dal/ dal palak. You will find these dal recipes on my blog here too.
How to make this – 
Ingredients – Serves 4
Cooking time – Under 30 mins
2 cups gms cauliflower florets
1/2 cup green peas – frozen
1/3 cup green capsicum – cubed
3 tbsp oil
1/4 tsp hing/asafoetida 
3 green chillies – slit
1/2 tsp ginger – grated
1 tsp cumin seeds
1/2 tsp mustard seeds/jakhiya seeds
Salt to taste
3/4 tsp turmeric powder
1 tsp red chilli powder
1.5 tsp coriander powder
3/4 tsp roasted cumin powder
1/2 tsp amchur/dry mango powder
1 tsp mint – dried and crushed
1/2 tsp garam masala
1/8 cup coriander leaves – chopped – or more if preferred.
Method – 
Rinse the cauliflower florets and soak it in salt and turmeric water for 15 mins.
Heat oil in a pan, preferably iron kadhai and bloom the hing. Then let the cumin seeds and mustards seeds sizzle, add ginger and green chillies and sauté for a min. Add turmeric power in the oil. Immediately add the cauliflower florets in the pan. Sauté on medium flame until the cauliflower begins to get softened. 
Mix in the green peas and capsicum. Add salt and let it all cook until all the veggies are tender as per preference. For example, I like a bite/crunch in my veggies but the family prefers soft and mushy veggies. So cook as per the desired preference.
Mix in the dry spices like red chilli powder, coriander powder, cumin powder, dry mint and mix everything well. Add in the chopped coriander leaves.
Taste and adjust seasonings. Finish it off with garam masala and amchur powder. Switch off the flame and if using an iron pan, transfer the sabji immediately to a serving bowl.
Garnish with more coriander leaves, serve with phulkas and raita.
Enjoy!!!
If you like this Gobi Matar Shimla Mirch Sabji | Cauliflower Peas Capsicum Stir Fry recipe, please let me know your thoughts in the comments below. You can also connect with me on my Instagram and Facebook handles.
You may also like –