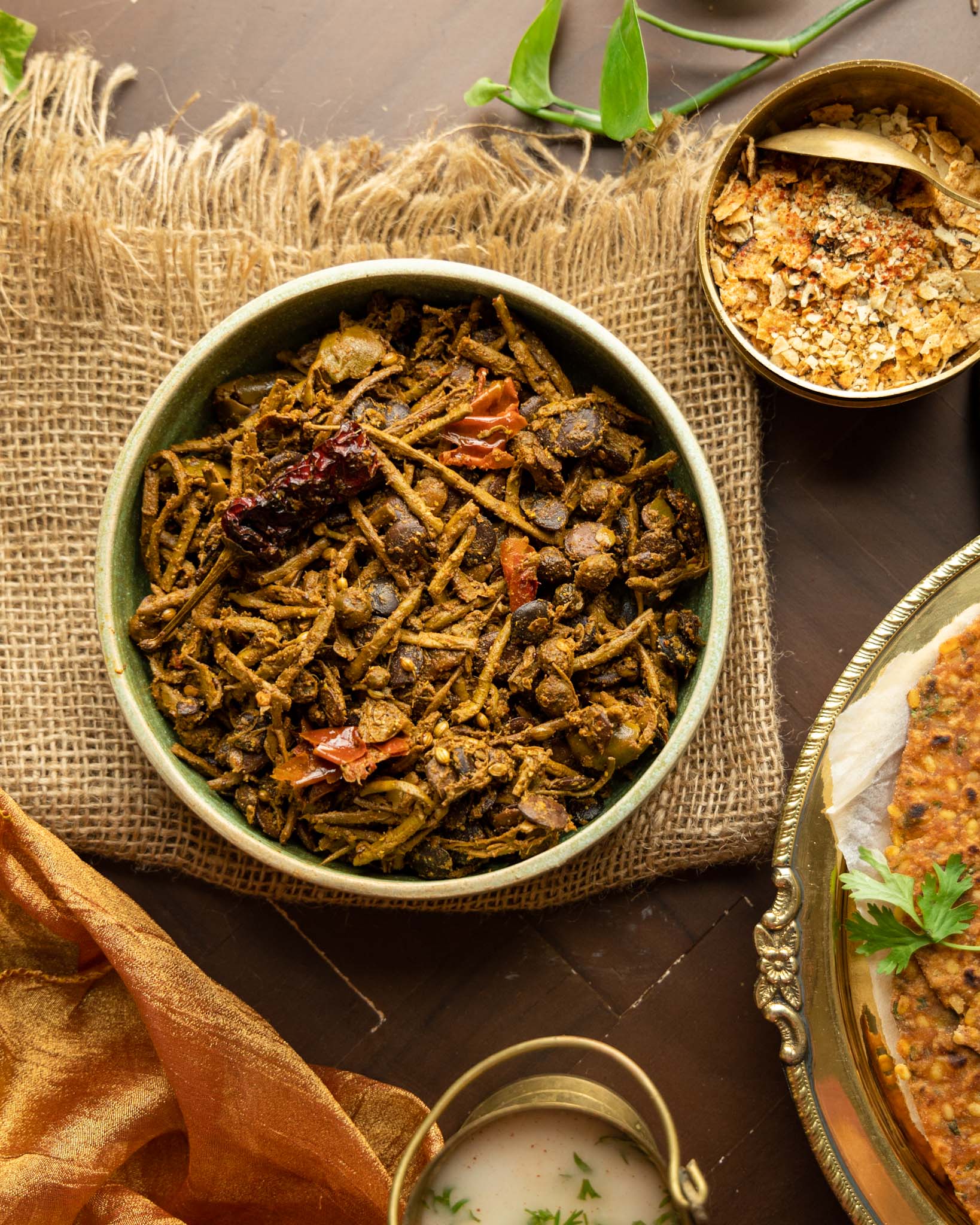 Marwari Panchkuta Saag.
Does that bowl of deliciousness make you drool? A combination of dried ker, sangri, gunda, sabut amchur and kumati. This used to be the food of Rajasthani royal families but now a part of all marwari households. Pairs well with parathas and chapatis. My favorite is with sabut moong dal paratha.
This has a long shelf life even after cooking and thus stays good in refrigerator for upto 6-7 days in an airtight container.
Once seasoned with all the spices, it gives a subtle taste of pickled saag. Oh! You need to try this to know what I mean. The ready packet of mixed dried panchkuta is available on amazon.
How to make this – 
Ingredient list – 
3 cups dried panchkuta
Salt to taste
1.5 tsp coriander powder
1/2 tsp turmeric powder
1.5 tsps red chilli powder
1/2 tsp amchur powder
1/3 tsp garam masala
1/4 tsp hing/asafoetida 
1 tsp sugar
1 tsp black salt
1.5 tsps Mustard seed powder 
2 dry red chilli 
1 tsp whole coriander seeds
2 tbsps cooking oil
Method – 
– Rinse and soak the panchkuta mix overnight. 
– Rinse the soaked panchkuta again, add salt and 1 broken dry red chilli and pressure cook with little water to just one whistle. Let the steam release naturally.
– Strain and ensure all the water is drained. Transfer it to bowl.
– Mix together – cooked panchkuta, salt, coriander powder, turmeric powder, red chilli powder, garam masala, sugar, black salt, amchur powder and mustard powder.
Heat oil in a wok/kadhai. Bloom hing, and add dry red chilli and coriander seeds. Sauté for 15-20 seconds and add the panchkuta mix. Sauté everything for 2-3 mins on medium low flame.
Enjoy!
If you like this marwari panchkuta saag recipe, please let me know your thoughts in the comments below. You can also connect with me on my Instagram and Facebook handles.