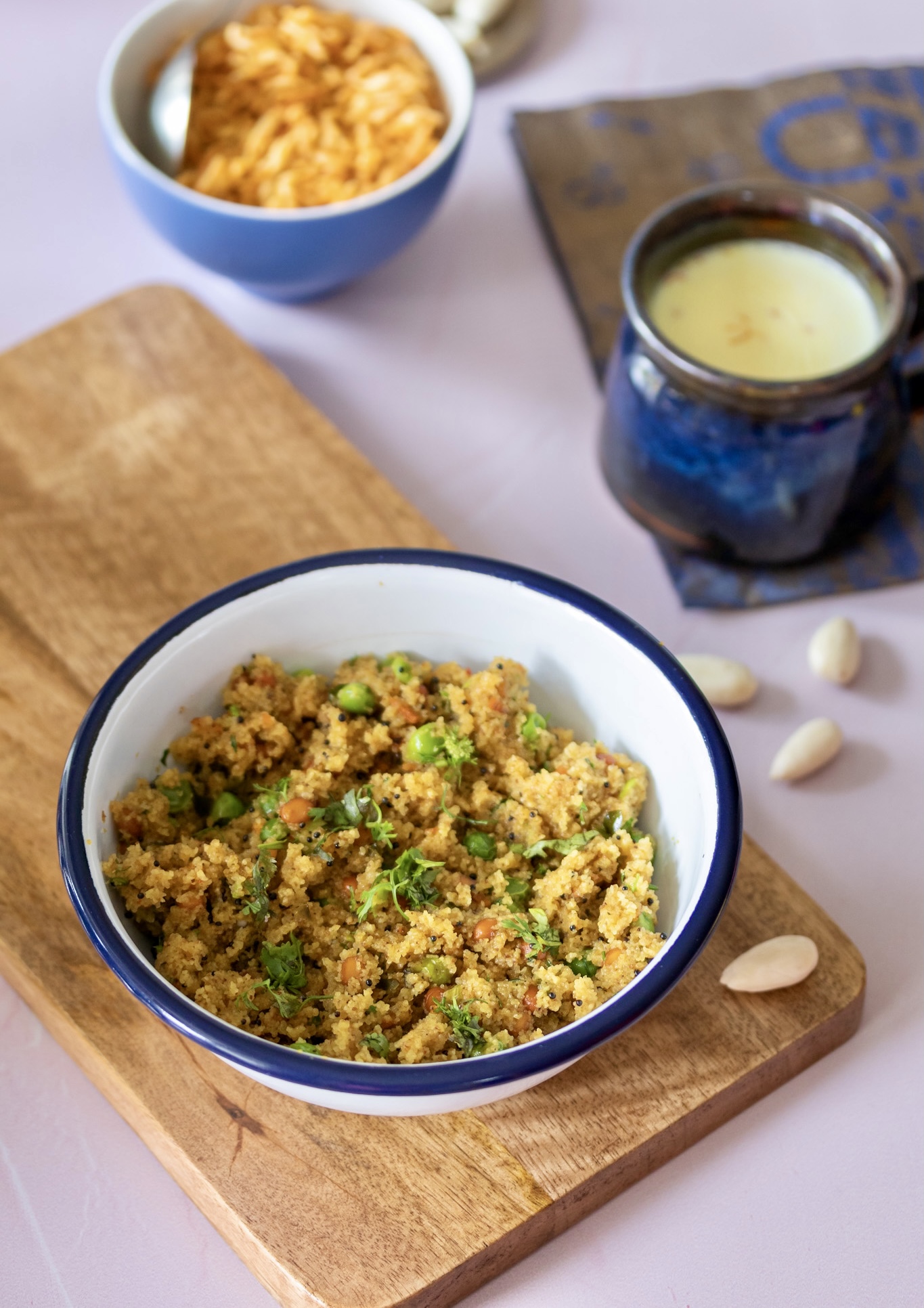 Mom's Special Semolina Upma.
This is one breakfast that I eat every single day when I am at my mom's place. The recipe is not something that could be found on internet but just how she customised it to our family's liking and it became a crowd favourite too. No doubt mom's recipes are the best!
How to make this – 
Ingredients-
1 cup roasted semolina (suji) (My mom roasts them in advance and keeps them in an airtight container for quick breakfast)
1/2 capsicum chopped fine
1 carrot chopped in small cubes
1/4 cup frozen peas
2-3 green chillies chopped
1 tbsp chana daal
1/3 tsp mustard seeds
1/8 tsp asafoetida (hing)
A few curry leaves
1/4 tsp red chilli powder – or more if desired
1/2 tsp coriander powder
Salt to taste
1/3 tsp turmeric powder
1/4 tsp amchur powder
1 cup water
1 tbsp oil
Cilantro to garnish
Method – 
Heat oil and fry capsicum. Keep aside. In the same oil fry carrot and keep aside too.
In that oil, add green chillies, curry leaves, mustard seeds and hing. Add chana dal and fry it until it turns golden brown.
Mix in suji and continue to sauté it until it turns light brown.
Mix peas (of using fresh peas, boil it first). Add water and keep stirring until the water is absorbed well.
Add all remaining spices and salt. Keep stirring on medium high flame until the upma reaches desired consistency. Garnish with cilantro.
Enjoy!
I hope you enjoy this Mom's special semolina upma recipe and I would love to hear from you if you try it. Tell me in the comments below. You can also connect with me on my Instagram and Facebook handles.
You may also like –