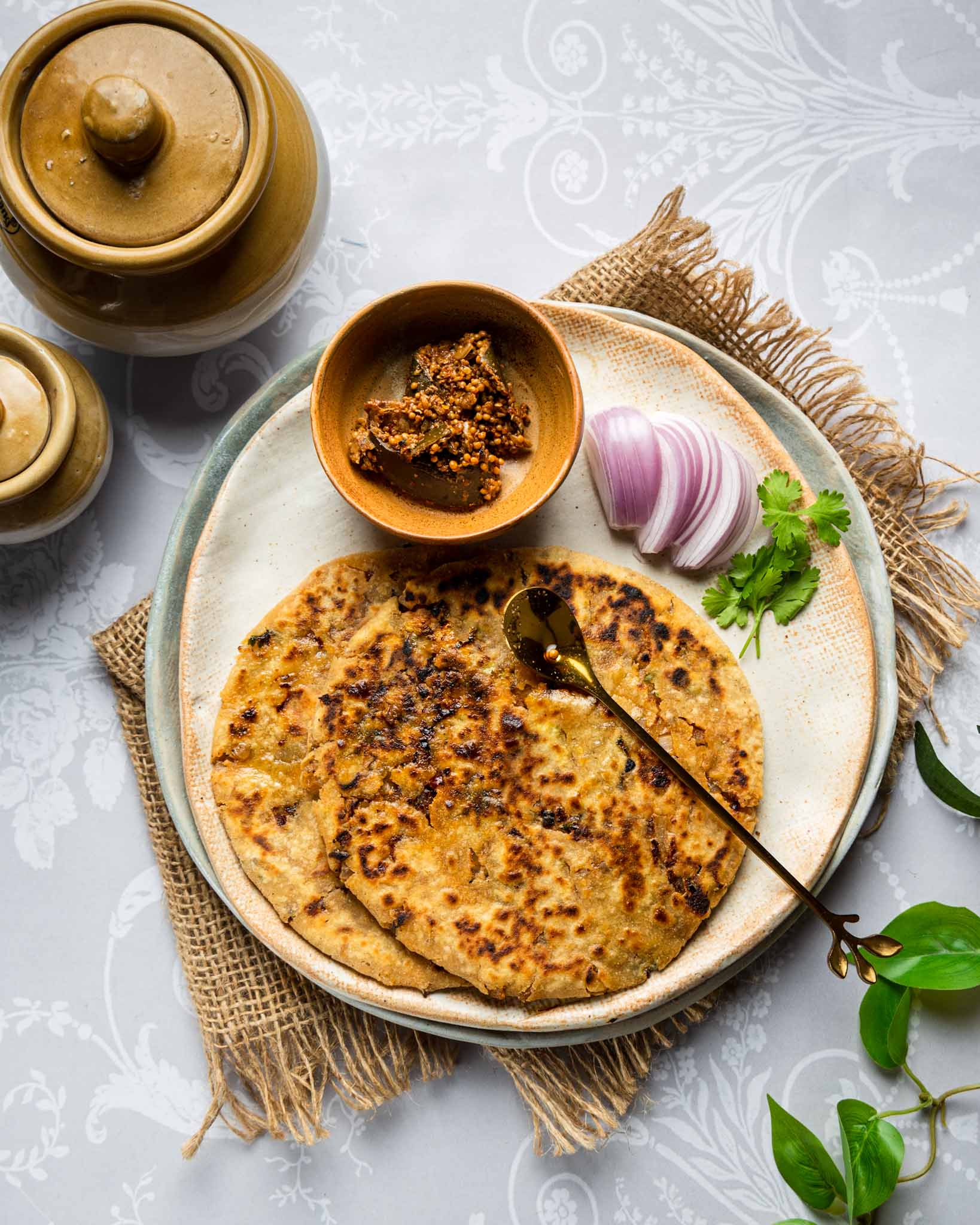 Onion & Cheese Paratha | Pyaz Paratha
We as a family love our parathas and I usually love trying new flavour combinations. I have made this caramelised onion parathas a few times but adding a little cheese and raw onions gave it a whole different flavour and bite. Pair it with humble Indian pickles and chai and this makes a great and wholesome breakfast.
Recipe – 
Ingredients – makes 2 parathas
1/2 cup whole wheat flour (I get Sihor wheat locally milled)
Water to knead the dough
Ghee – enough to cook the parathas
Stuffing –
1/4 cup + 1 tbsp onions – finely chopped
2 tbsp cheese – finely grated –  I used processed.
1-2 cloves garlic – finely chopped
2 tbsp coriander leaves – finely chopped
Salt to taste – I used around 3/4 tsp
1/2 tsp – Red chilli powder
1 tbsp oil – I used cold pressed groundnut oil
Method – 
Knead a soft dough using whole wheat flour and water. Let it rest for 15 mins. Rub a little ghee and knead it again.
While the dough rests make the stuffing –
Heat oil in a pan. Add garlic and sauté until it begins to change colour. Add 1/4 cup chopped onions and salt and sauté until it turns pinkish brown (caramelises). Remove from the flame and let it cool to room temperature.
Mix all the other stuffing ingredients together and add the caramelised onions.
Now divide the dough into small balls. Take one and cover the rest.
Flatten the dough ball into 3 inch diameter, brush ghee (clarified butter) and spread the filling.
Close the edges forming a flattened ball again and press it gently with palms to flatten it further. Gently roll it to give a shape of roti/flatbread.
Roast on griddle/tawa with ghee from both sides.
Serve with curd, pickle, chai.
Enjoy!!!
If you like this recipe of onion & cheese paratha | pyaz paratha, I would love to hear from you in the comments below or connect with me on my Instagram or Facebook handles.
You may also like –