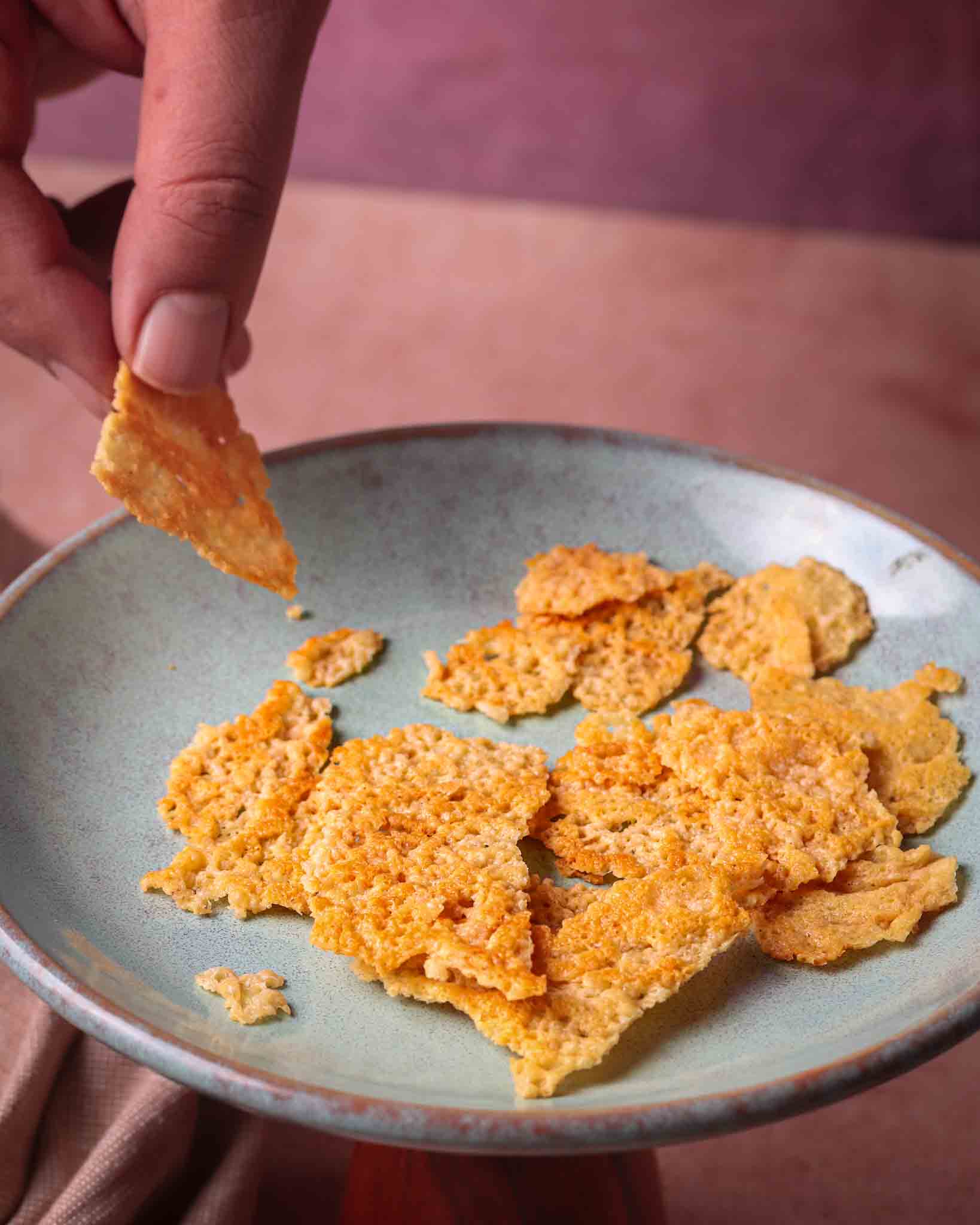 Parmesan Crisps.
I love cheese! What's the surprise in this statement though. Who doesn't? 
These are Parmesan cheese crisps made in a pan on stove top. Use it as a garnish on pastas, serve it with salads or soups or as a part of your charcuterie board. Alternatively this could be made in an oven too. The crunch and colour is so gorgeous. 
I have made a small attempt to create a stove top process video. Linked here.
To make this with just one ingredient, I have listed both the oven and stove top processes below.
Stove top – 
Brush or spray a flat non stick pan with minimal oil. Heat the pan on medium low. Then sprinkle grated Parmesan cheese on it. Sprinkle some freshly crushed black pepper or red chilli flakes. Let it melt and start forming into a thin crisp. Do not touch it. Once it has attained the crisp texture, flip it and let it turn golden brown from the other side. Keep the flame on medium low throughout. Then remove it from the pan and break it into pieces. Relish as desired and enjoy!
Oven baked – 
To make in the oven, line a baking tray with parchment paper. Preheat the oven at 180 C fan assisted or 200 C conventional. Place the grated Parmesan cheese. Sprinkle some freshly crushed black pepper or red chilli flakes. Bake it for 7-8 mins until it turns crisp golden brown. Enjoy!!!

If you like this black eyed beans curry, please let me know your thoughts in the comments below. You can also connect with me on my Instagram and Facebook handle.
You may also like – 
Cheese chilli garlic pull apart bread.