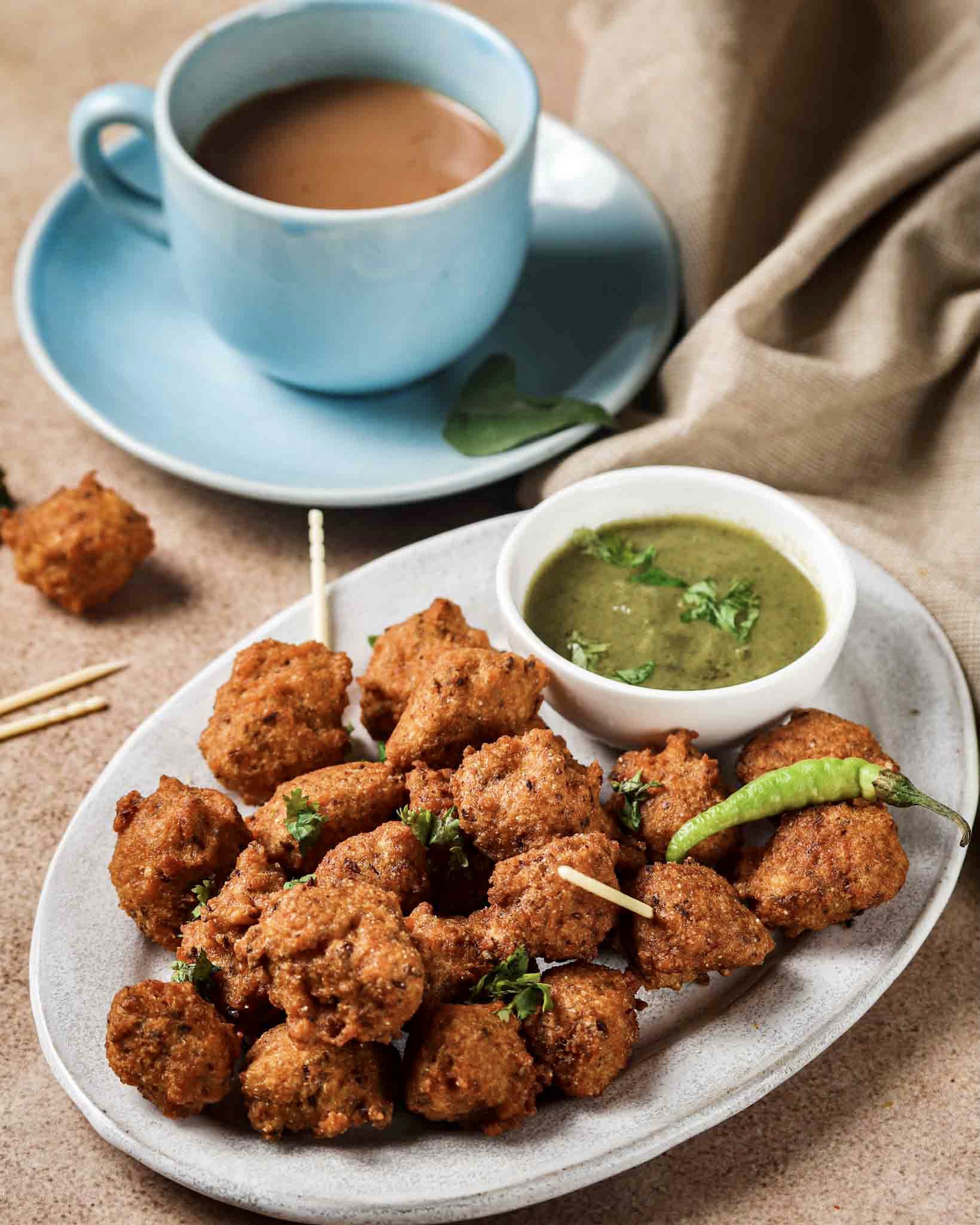 Spicy Dal Pakodas (Indian yellow moong lentils fritters).
Who else have tried and totally love Lonavala's moong dal pakodas? My family absolutely loves this fried goodness. Paired with chutneys of choice, this is a great snack on a rainy or winter evening.
Yellow moong dal soaked for few hours and then blended coarsely with rice, spices and chillies, and then fried to crisp perfection. Rice lends that required crunch and crisp texture to the pakodas. We as a family like our food a bit fiery, so my use of green chillies are high. Feel free to reduce the quantity as per your desired taste buds. 
It does taste mouth watering and delicious. We love it with our cup of Indian masala chai.
Also, I would love to mention, that I recently read a book named "Pakodas" by Sangeeta M Khanna and I must say it does takes away a lot of notions around food fried at home. The age old methods are interesting and made me happy to read that fried food could be healthy too. Some of my key take-aways are adopting age old methods of frying, using cold pressed oil and not to let the oil heat upto a smoking point. 
If you like this hot & spicy moong dal pakodas recipe, please write to me in the comments section below or connect with me on my social media handles.
You may also like the series of monsoon recipes.
Hot & Spicy Moong Dal Pakodas
Hot and spicy, Indian vegan snack.
Ingredients
3/4

Cup

Yellow moong dal

Soaked for at least 4 hours.

1/4

Cup

Rice

Soaked for 30 mins.

5-6

Pcs

Green chillies

1

Inch

Ginger

1/4

Cup

Coriander leaves

chopped

1

Tsp

Cumin seeds (jeera)

1/2

Tsp

Carom seeds (ajwain)

1

Tsp

Fennel seeds (saunf)

Coarsely crushed

1

Tsp

Red chilli powder

Salt to taste

Oil for frying

preferably cold pressed oil
Instructions
Blend coarsely all ingredients except coriander leaves and oil. Mix in coriander leaves. Whisk the batter with hands until it looks a bit fluffy (alternatively add a pinch of soda but that soaks more oil).

Heat oil on medium flame. Fry them in small balls until they turn golden brown and crisp. Ensure that the oil doesn't smoke. Keep it on medium flame for even cooking.

Serve with chutneys of choice.

Enjoy!!!