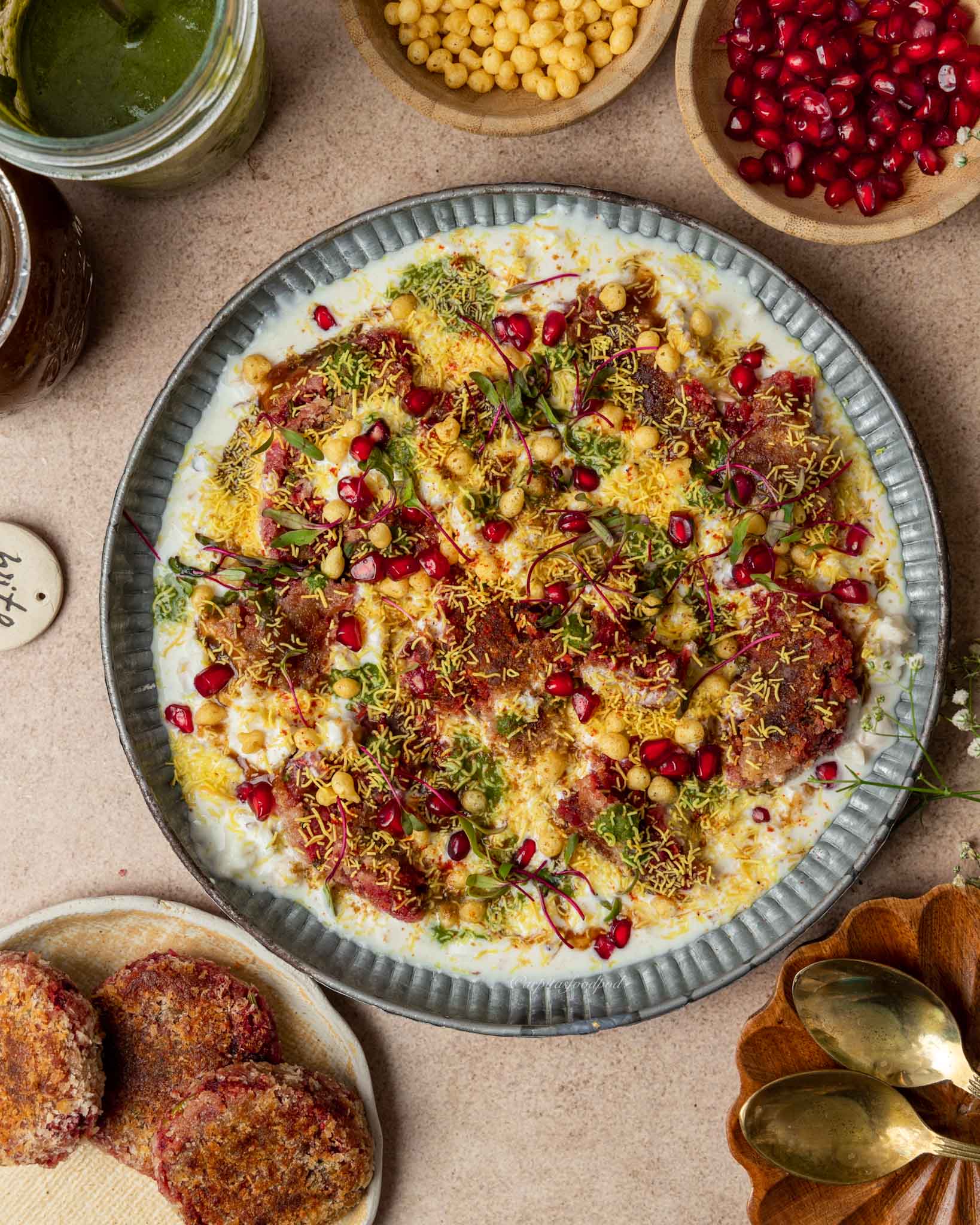 Sweet Potato Beetroot & Carrot Tikki Chaat.
Though this is a great Navratri snack/meal but we eat it all the time the sweet potatoes are in season. Chaat lovers would simple adore it and vegans can skip the yogurt. There is no onion and garlic in this recipe and I promise you wouldn't miss it. The tikkis are cooked on low flame until they have a gorgeous crisp texture on the outside and soft but thoroughly cooked on the inside. I end up eating a couple of them in the pretext of tasting before serving it to others 😛
Turn these gorgeousness into a delicious chaat with whisked yogurt, green chutney, sweet tamarind chutney (I will link the recipes of the chutneys below), sev, boondi, micro greens, pomegranates arils and some red chilli powder.
Recipe – makes 10 tikkis of diameter 3 inch each.
Ingredients – 
1 cup sweet potatoes – boiled and grated
1/2 cup beetroot – boiled and grated
1/3 cup carrots – grated
1.5 tsp salt
1.5 tsp crushed ginger and green chillies
1/3 tsp red chilli powder (skip if the green chillies are too hot)
1/2 tsp roasted cumin powder
1/2 tsp amchur powder
3 tbsp coriander leaves – finely chopped
2 tbsp besan
1 tsp cornflour
1 cup panko breadcrumb
Cold pressed sesame oil as required
Method – 
Mix together the grated sweet potatoes, beetroot, carrots, all the spices, ginger, green chillies and coriander leaves.
Mix cornflour and besan with water and make it into a slurry. Use ice cold water. Make the slurry runny and not thick.
Make small patties, dip them one by one into the slurry and toss them in the panko breadcrumbs. Re do the dipping and tossing process. Keep them ready to be cooked.
Heat sesame oil in a pan and cook the tikkis from both the sides on low flame until the exterior is brown and crisp. It takes a while to do it so patience is the key here 🙂
Assemble the chaat with the toppings mentioned above as desired or eat these as is.
Enjoy!
If you like this recipe of Sweet Potato Beetroot & Carrot Tikki Chaat, I would love to hear from you in the comments below or connect with me on my Instagram or Facebook handles.
The link to the chutney recipes – Chutneys