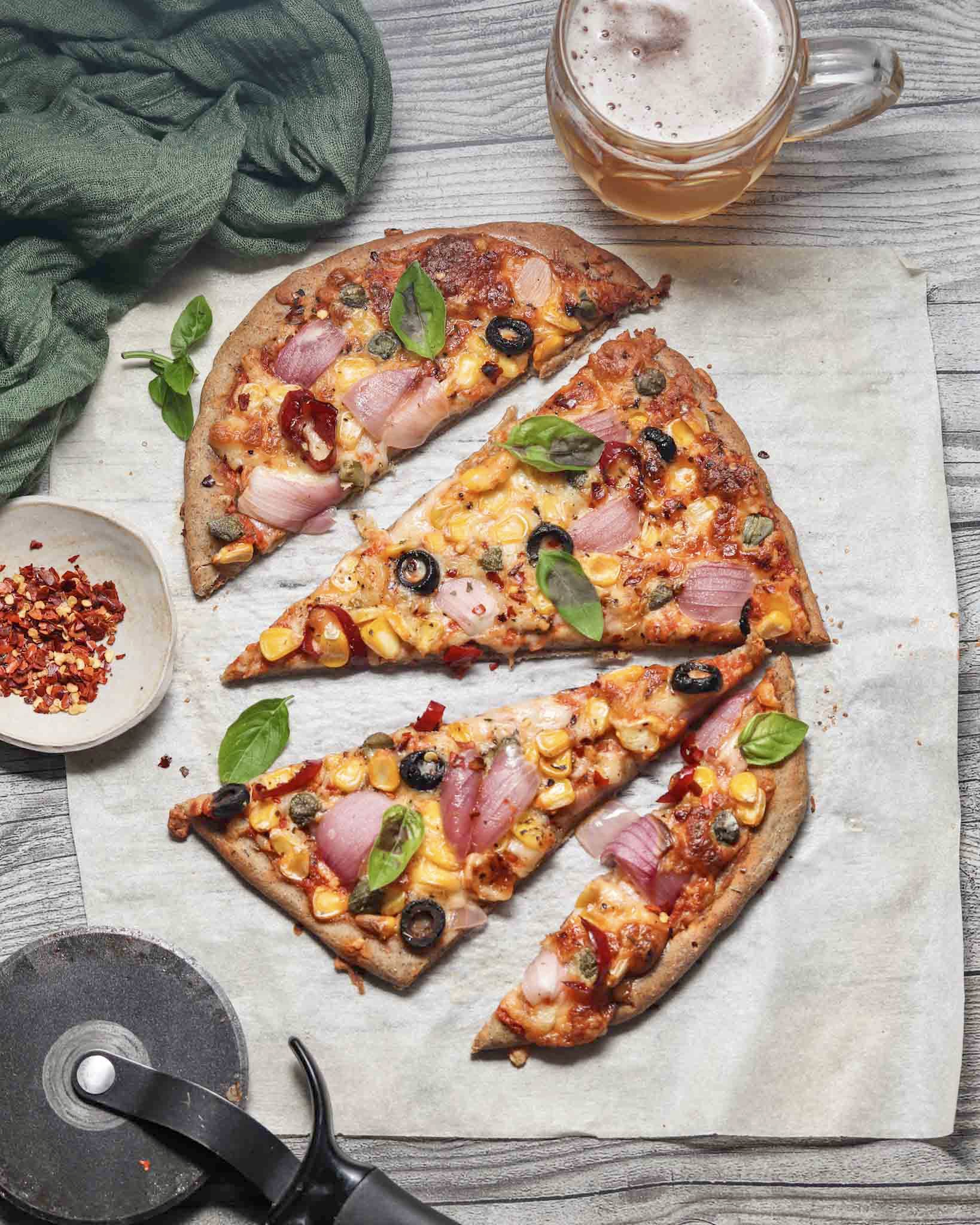 Whole Wheat & Buckwheat Pizza
When the pizza cravings kick in but you consuming refined flour isn't an option. So tried my hands on healthy buck wheat and whole wheat bread base and I was super elated with the result. This is a healthy alternative to the regular pizzas, easy to make, with the desired toppings and preferably non-processed cheese. What I have used here is home-made tomato pizza sauce for this but feel free to use pesto instead of tomato pizza sauce.
I wanted the pizza base to rise and hence, the proportion/ratio of whole wheat flour and buckwheat flour is 3:1. I mean just look the happy picture below where the base has risen to almost triple the size. The picture is at the end of the post. The key is kneading and stretching the flour for sufficient amount of time. This wouldn't give you the air pockets as the refined flour does. But knowing that it is healthy, we were ok to compromise on that aspect. However, taste wasn't compromised at all and we totally loved and devoured our guilt-free weekend indulgence with a glass of aged wine for me and IPA for the husband. 
If you like this recipe or have questions, please let me know your thoughts in the comments below or connect with me on my Instagram and Facebook handles.
You may also like – 
Cheese Chilli Garlic Pull Apart Bread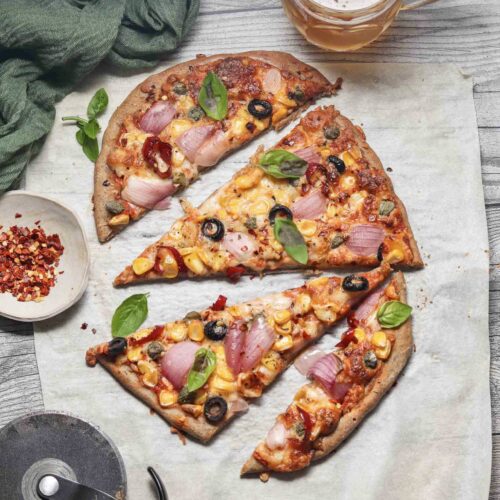 Whole Wheat & Buckwheat Pizza
Healthy guilt-free pizza with base made with healthy flour option.
Ingredients
3/4

Cup

Whole Wheat

1/4

Cup

Buckwheat

1.5

Tsp

Active yeast

1/4

Cup

Water - lukewarm

1.5

Tsp

Sugar

2

Tbsp

Olive oil

1/4

Tsp

Salt

1/2

Cup

Water to knead the dough
Pizza Toppings
Pizza sauce

Mozzarella and aged cheddar cheese

can use processed cheese too

Cubed onions, jalapeños, capers, capsicum, sweet corn, red paprika, thyme/basil, oregano, sun dried tomatoes.

or anything else of choice.
Instructions
Activate the yeast by mixing it with lukewarm water and sugar. Let it rest for 10 mins until it becomes frothy.

Seive and mix the two flours together in a wide bowl and make a well in between. Add the activated yeast, olive oil, salt. Add more water to knead but in intervals and as required. Bring it all together with the help of a spatula.

Take it on a lightly floured surface and start to knead until it begins to come together. Stretch and knead until it is a smooth dough. Takes about 10-12 minutes

Tuck the dough in the greased bowl, cover and let it rest to proof in a dark warm place. I usually put it in my oven (switched off mode) for at least 1.5 hours.

Once the dough has risen, take it on a flat surface and use hands to stretch in gently into a flatbread. Using rolling pin would kill the air bubbles. Poke the base gently a few times with a fork.

Add the pizza sauce, cheese, and desired toppings. Let it sit covered again for 15 mins or until the oven is pre heated.

Bake it for 15-20 mins at 180 C Fan assisted or until the cheese looks done and the base is crisp.

Enjoy!