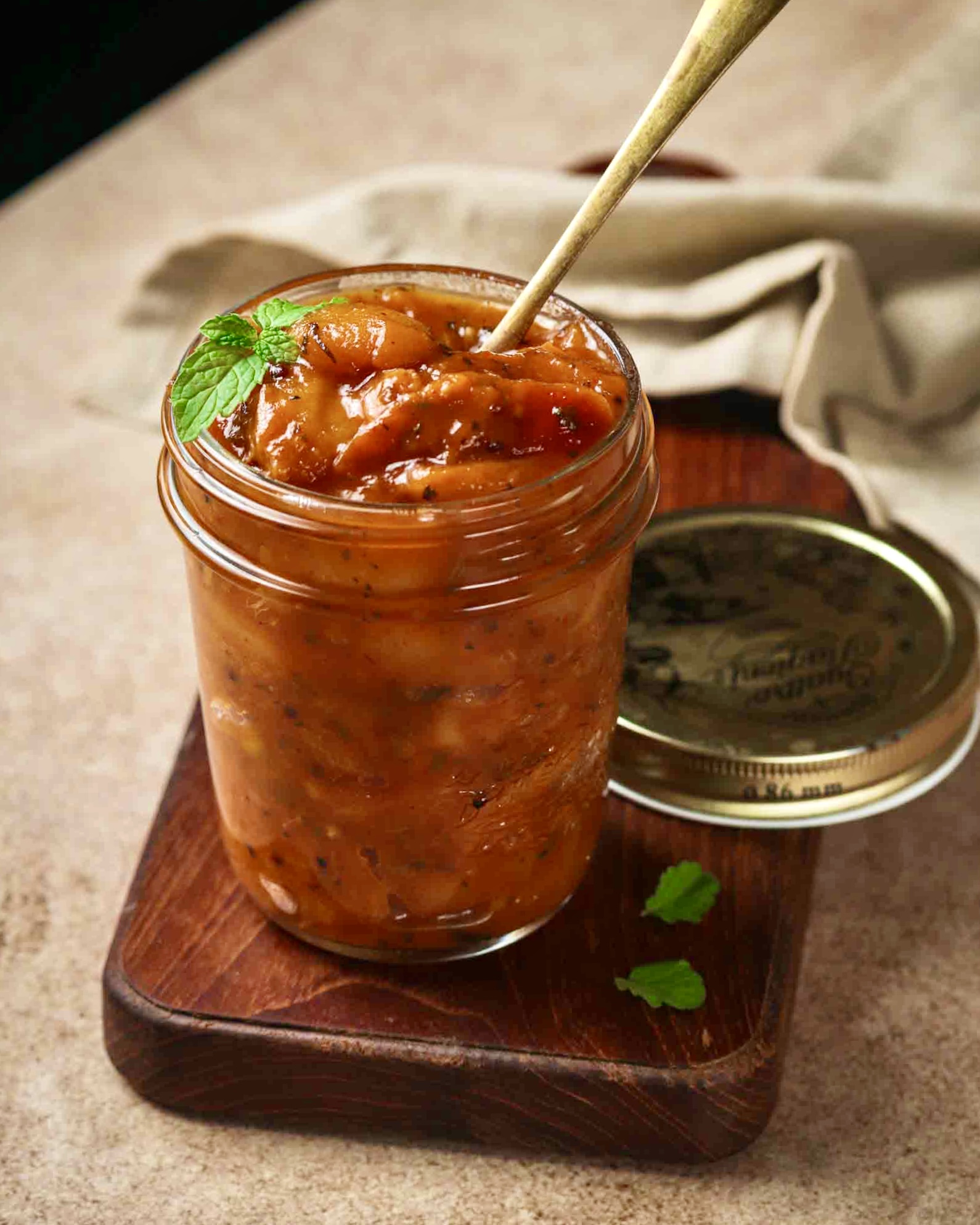 Dried Plums Chutney
This one is a spicy, sweet and tangy chutney. I have added a few fresh plums along with soaked dried plums (see pic below) to make this delicious chutney. I love my parathas for breakfast and this pairs so well with them. 
This works great as tart fillings, for sandwiches, or as I meantioned earlier, with Indian parathas. It works wonders on just a plain toast on a lazy weekend morning. I also use it as dipping sauce for my snacks. 
The natural sweetness of soaked dried plums gets balanced with the tart of fresh plums. The magic of flavour is in the Indian spices that is used in making it. This condiment is made with dried plums, fresh plums, Indian five spices, chilli powder, salt, dried mint, and jaggery (optional). At my place, we love this chutney a bit chunky so I don't blend it every time. I have added the step in the recipe card below if you prefer the chutney smooth than chunky.
If you like this recipe, let me know your thoughts in the comments below. You can also connect with me on my Instagram and Facebook handle.
You may also like –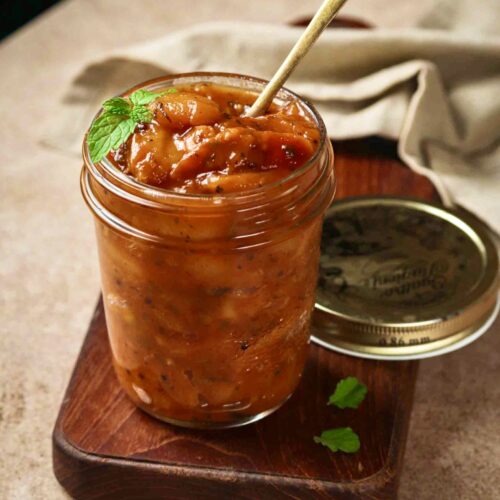 Dried Plums Chutney
Guilt free fruit condiment, naturally sweet, tangy and spicy.
Ingredients
1

Cup

Dried plums

1/4

Cup

Fresh plums

1

Tbsp

Oil

2-3

Pcs

Green chillies

Chopped

1/2

Tsp

Ginger

Grated

2

Tbsp

Dried mint

Crushed

1/2

Tsp

Cumin seeds/jeera

1/2

Tsp

Mustard seeds/rai

1/2

Tsp

Nigella seeds/kalonji

1/4

Tsp

Fennel seeds/saunf

1/4

Tsp

Fenugreek seeds/methi

1/4

Tsp

Asafoetida/hing

1/4

Tsp

Turmeric powder

1/2

Tsp

Red chilli powder

Salt to taste

1

Tbsp

Jaggery powder

Optional

1

Tsp

Lemon juice

1

Tbsp

Basil seeds

soaked for 1 hour

1

Cup

Water
Instructions
Soak Dried plums overnight in enough water. Next day de-seed the dried plums.

Chop fresh plums, green chillies.

Heat oil in a pan, add asafoetida, cumin, mustard, nigella, fennel and fenugreek seeds. Once these crackle, add green chillies and ginger. Sauté for 30 secs.

Add the dried, soaked and de-seeded plums and the fresh plums. Let it cook on low flame until it releases juices and turns soft. Add water and cook for another 5-7 mins. At this stage, if you like smooth chutney instead of chunky, then take it off the flame, cool it a bit and then using an immersion blender, blend it to desired consistency. Take it back to the flame.

Add the powdered spices, dried mint and salt. Mix well.

At this stage taste the mix and add jaggery only if required (dried plums once soaked are sweet enough, I also used sweet fresh plums to avoid additional sweetener).

Cover and cook until it reaches the desired consistency (approx 2-3 mins). Take it off the flame. Add lemon juice and soaked basil seeds.

Let it cool to room temperature. Store in an airtight container in refrigerator.