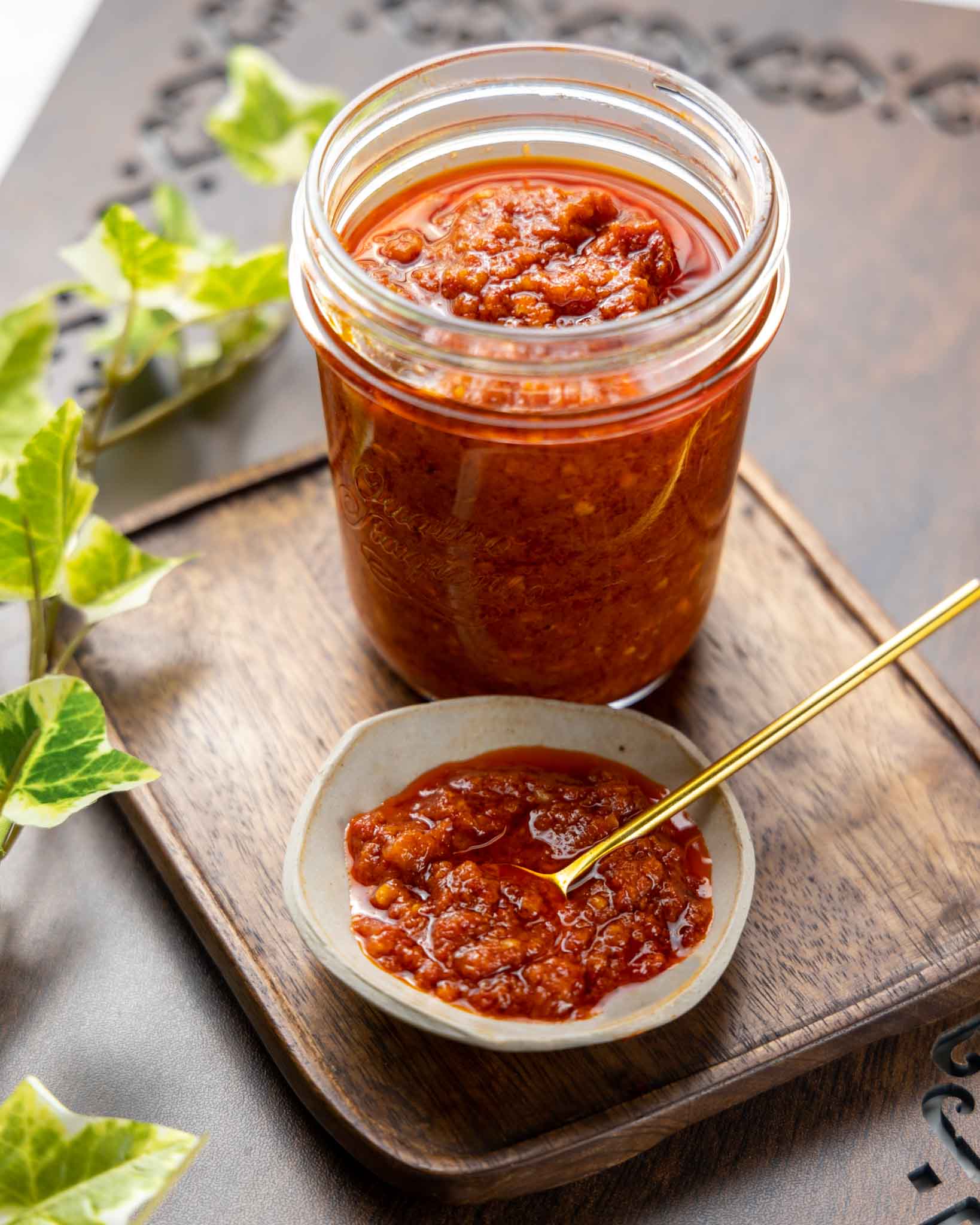 Marwari Hot Garlic Chutney
This is one hot and spicy Indian condiment which makes Indian food more interesting. During our trips to Rajasthan, we have had various versions of this chutney, both in dry and paste form. This is a staple condiment there and served with almost every meal. Hot phulkas smeared with this chutney, makes a delicious quick snack in itself. 
How is it made?
It is made with garlic, dry red chillies, ginger, oil, salt, jaggery and lemon juice. Pairs perfectly well with simple chapatis or parathas (Indian flatbreads), dal rice, khichdi, and almost every Indian food. To make this, soak dry red chillies for half an hour in hot water. Grind them along with the garlic and that soaked water. Heat oil and add the garlic chilli paste. Cook it on medium flame until the sides release oil and then cover and cook it for some more time on low flame until the oil floats on top. Then add salt and sugar. Remove from heat, let it cool and then add lemon juice. Enjoy!
The heat/use of chillies could be reduced as per preference. The use of oil is a bit more, so it cooks well and preserves well for a few months.
How to store it?
This Marwari hot garlic chutney could be stored in an airtight jar for upto 3 months in refrigerator.
If you like this recipe, let me know your thoughts in the comments below. You can also connect with me on my Instagram and Facebook handle.
You may also like –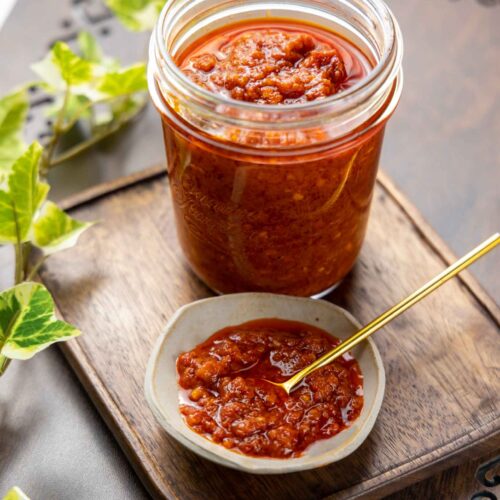 Marwari Hot Garlic Chutney
Spicy and hot condiment for Indian food
Ingredients
1/2

Cup

Garlic cloves

15-16

Pcs

Dry red chillies

Soaked in hot water for 30 mins.

1

Inch

Ginger

1/2

Cup

Oil

1.5

Tsps

Salt

1.5

Tsps

Sugar/jaggery

1

Tsps

Lemon juice
Instructions
Grind soaked chillies, ginger and garlic with minimal water from the soaked chillies. Grind into a paste.

Heat oil in a pan and add the garlic and chilli paste. Stir and cook for 7-8 mins until the sides starts to release oil on medium low flame.

Lower the heat and let it cook until the oil floats on top. Add salt and sugar. Mix it well. Cook for another minute.

Remove from heat, let it cool down. Add lemon juice.

Enjoy!!!