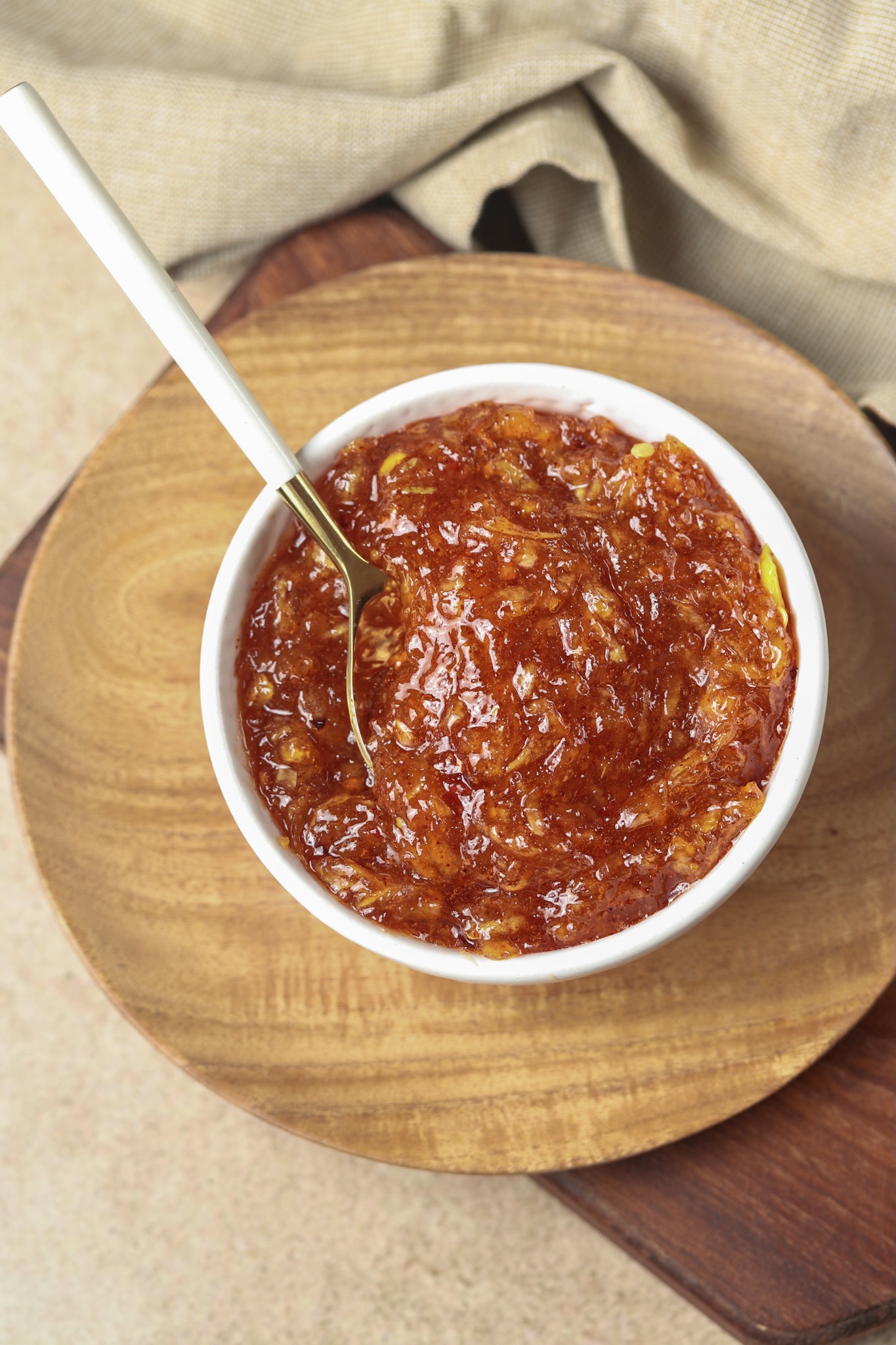 Hot Sweet And Tangy Aam Chunda.
This Aam chunda made with raw mangoes and sugar makes a delightful condiment with parathas or on sandwiches. A hint of cardamom for a little warmth and enough red chilli powder for the kick, and this is one addictive condiment. I love to add chilli for the colour and the heat, plus it balances the overall sweetness of the sugar used in it. 
This is made during Indian summers when there is availability of raw mangoes in abundance in most of the regions. There are so many child hood memories associated with this condiment. Mommy rolling parathas smeared with this for school lunch box or for our picnic box.  My favourite was when she used it as jam spread in sandwiches when friends came over to play or study. Everyone in my friends group loves these sweet sandwiches. A few of them never shied away from asking for it every time they visited our home. Childhood is so simple and beautiful, isn't it? 
If you like this hot sweet and tangy aam chunda recipe, let me know your thoughts in the comments below. You can also connect with me on my Instagram and Facebook handle.
You may also like – 
Hot Sweet And Tangy Aam Chunda
Sweet, tangy and hot Indian condiment.
Ingredients
1

Cup

Raw mango

Grated

3/4

Cup

Sugar

1/2

Tsp

Lemon juice

1/8

Tsp

Cardamom powder

1

Tsp

Red chilli powder

more or less as per the taste

1/8

Tsp

Salt
Instructions
In a pan, add raw mango and sugar. Let it cook on low medium low flame until the sugar melts and caramelises and the mix thickens up. Takes about 10-12 mins.

Add cardamom, red chilli powder and salt. Mix well.

Remove from flame, add lemon juice let it cool down to room temperature and store in an airtight jar in refrigerator.

Enjoy with parathas, breads or as a dip.