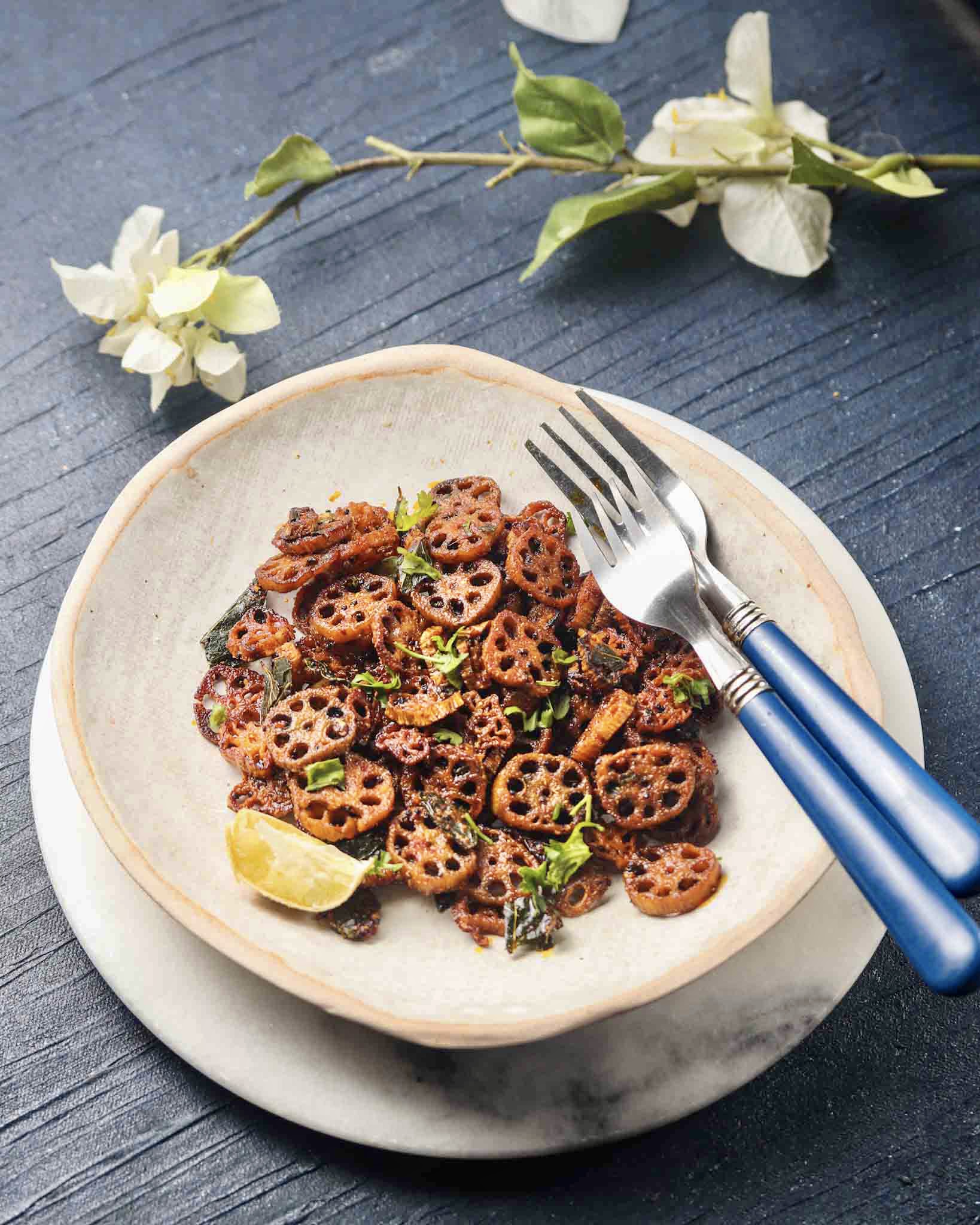 Lotus Stem Stir Fry.
Lotus roots are the stem of the lotus plant. It is a source of healthy fibre and full of nutrients! If you haven't tried it yet, I urge you to make this recipe so you can fall in love with it. These are one of the most loved vegetables in Asia and is used quite frequently in South Asian cuisine. The lotus root's texture is crunchy when stir-fried, soft and potato-like when boiled. I chose the former for the delicious crunch it adds to my meal bowls. 
Combine this kamal kakdi stir fry with a humble and simple dal chawal or khichdi or eat it like a snack. It's really delicious either way. A lot of recipes mention to blanch it before frying but I like to directly stir fry on medium high heat to maintain its crunch. This, however needs to be cleaned really well to get rid of the dry mud stuck in the stems.
To clean it, I peel and slice the lotus stems and then soak it in salted warm water for 5 minutes. Then I pat dry the veggie and its ready to go in the pan for frying. Alternatively, this can also be roasted in air fryer or in the oven. Also, I used pahadi jakhiya seeds (Cleome viscosa) to temper the stir fry. The crunch and light pungency it adds is something I am obsessed with  currently. Replace it with cumin and mustard if you don't have jakhiya seeds handy.
If you like this lotus stem stir fry recipe, please let me know your thoughts in the comments below. You can also connect with me on my Instagram and Facebook handle.
You may also like –
Butter garlic & thyme mushrooms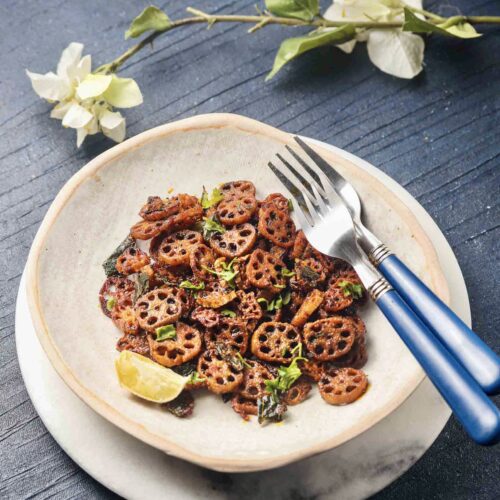 Lotus Stem Stir Fry
Vegan snack or a side with South Asian meals.
Ingredients
200

Gms

Lotus stems

Peeled and sliced

5-6

Pcs

Curry leaves

1

Tsp

Jakhiya seeds (cleome viscosa)

Or mustard and cumin seeds

1/4

Tsp

Asafoetida

2

Tbsp

Ground nut oil

or any other cooking oil

1/2

Tsp

Turmeric powder

1

Tsp

Red chilli powder

1

Tsp

Coriander powder

1/2

Tsp

Roasted cumin powder

1/2

Tsp

Garam masala

1

Tsp

Lime juice

Salt to taste
Instructions
Peel and slice lotus stems. Clean them thoroughly. Keep them in salted warm water for 5 mins so the dry mud can be cleaned from it. Pat dry on and with a kitchen towel.

Heat oil in a wok, add jakhiya seeds and let it splutter. Add curry leaves and asafoetida. Let it fry for 15 secs.

Add the lotus stems and stir fry it on medium high flame until it turns golden brown and crunchy. Takes about 10 mins.

Add all the dry spices and salt except garam masala. Cook it for another 2-3 mins.

Add garam masala and switch off the flame. Add lime juice and chopped cilantro.

Enjoy!