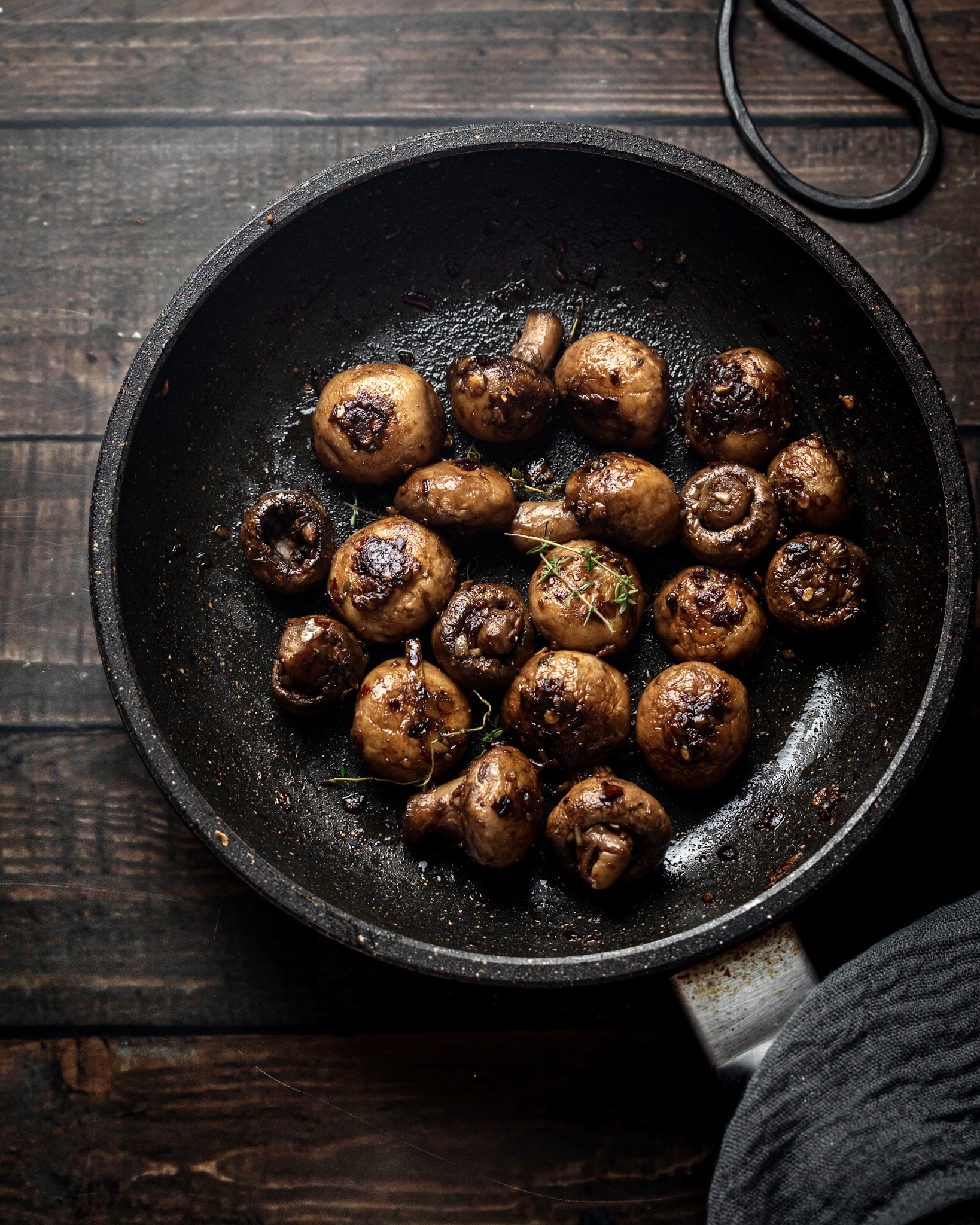 Butter Garlic & Thyme Mushrooms
A delicious weekend snack which is ready in under 30 minutes and the textures are so gorgeous that i really wanted to immediately capture those, without wasting any time on further styling. So here's a raw, rustic, straight from the pan shot. 
This pan seared butter garlic & thyme mushrooms are made with minimal and staple pantry ingredients and without any fuss. I promise kids would love to feast on it too.
I love the gorgeous caramelisation in the mushrooms that you can get by cooking it right. Some of the key points to keep in mind is not over crowing the pan in which it cooks. Mushrooms have a mind of their own and they refuse to brown up if they are in an over crowded space. Also not to stir the mushrooms while they cook. Either gently slip each one of them once they are cooked on one side or gently shake the pan.
We had veggie sandwiches for dinner today and this as a side with some lemonade. It was a perfect Sunday meal. What's your easy-easy weekend meal or do you like to go elaborate on weekends? Tell me in the comments below. You can also connect with me on my Instagram or Facebook handle.
You may also like – 
Vegan Balsamic & Basil Mushrooms with Soba Noodles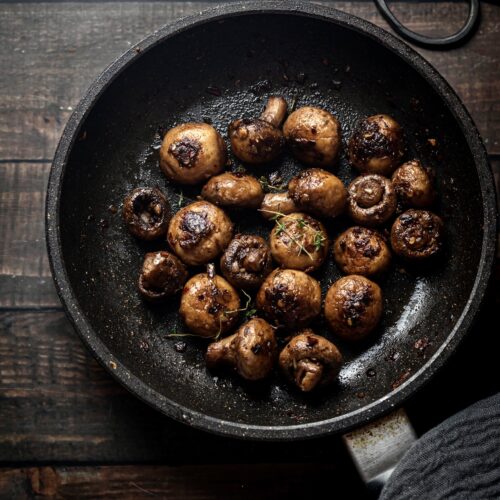 Butter Garlic & Thyme Mushrooms
Quick side/snack. Flavourful and delicious.
Ingredients
1

Packet

Button mushrooms

cleaned

1

Tsp

Butter

3

Tbsp

Garlic

finely chopped

4-5

Twigs

Thyme

Fresh

1

Tbsp

Red chilli flakes

Salt

To taste

1

Tsp

Dry garlic flakes/granules

optional
Instructions
Clean the mushrooms well.

In a pan, heat butter, add garlic, throw in the thyme and red chilli flakes. Sauté until they change colour.

Add in the mushrooms and let them cook on low flame until they caramelise beautifully from all sides. Don't stir. Shake the pan to turn and flip them.

Add in dried garlic flakes and salt.

Shake and sauté them on medium high flame for 2-3 mins for a gorgeous char on mushrooms.

Remove from heat and dig in.

Enjoy!!!
Notes
Do not stir the mushrooms. Just shake the pan.