Oats and Chocolate Hobnobs
These delicious treats are vegan, gluten free, refined sugar free and guilt free. I bet you cannot stop at one. This is a great option for kids snack, post meal dessert cravings and mid day snacking.
My love for dark chocolate makes me experiment and research on new recipes more frequently than I do with any other ingredient. I have used maple syrup in this recipe, but feel free to replace it with agave or honey. 
For a nut-free option, replace the ground almonds with the same amount of oat flour.
Using a good quality couverture is really important for this recipe or any other recipe that requires chocolate in it. I have used Van Houten dark chocolate couverture for this. use whichever brand is locally available to you. Tempering the chocolate well is crucial for the sheen and gloss finish on the chocolate. I have explained how to temper your chocolate in the recipe card below.
If you like this Oats and Chocolate hobnobs recipe, leave your thoughts below in the comments section. You can also connect with me on my Instagram and Facebook handle.
You may also like – 
Chocolate and peanut butter bliss balls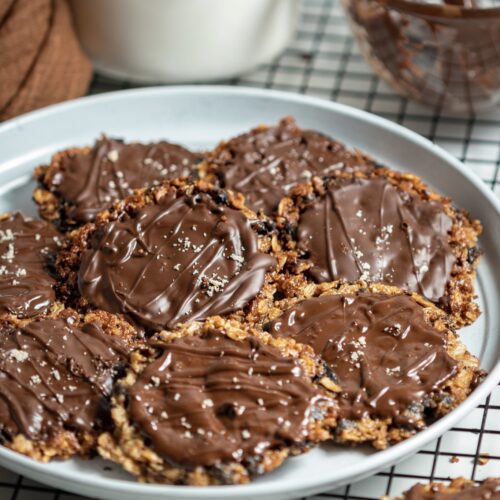 Oats and Chocolate Hobnobs
Vegan, gluten free and guilt free bake.
Ingredients
1/2

Cup

Rolled oats

1/2

Cup

Oats flour

1/2

Cup

Ground almonds

1/4

Cup

Dark chocolate chips

1/3

Cup

Maple syrup

1/3

Cup

Olive/vegetable oil

1/2

Cup

Dark chocolate couverture

1/8

Tsp

Salt
Instructions
Mix together all the ingredients except dark chocolate couverture.

Scoop them in a lined baking tray. Flatten them into cookies shape.

Bake them in a preheated oven at 180 C for 12-15 mins or until the edges turn golden brown. Let it cool down.

Meanwhile chop dark chocolate couverture and melt in a double boiler.

Temper the chocolate until it looks shiny and glossy (pour the chocolate onto a marble or other cool surface. Use a spatula to stir and scrape the chocolate across the surface to cool it down).

Load the chocolate on the cookies and let it sit in the refrigerator for 15 mins. Sprinkle some more crushed almonds on top.

Enjoy!!!