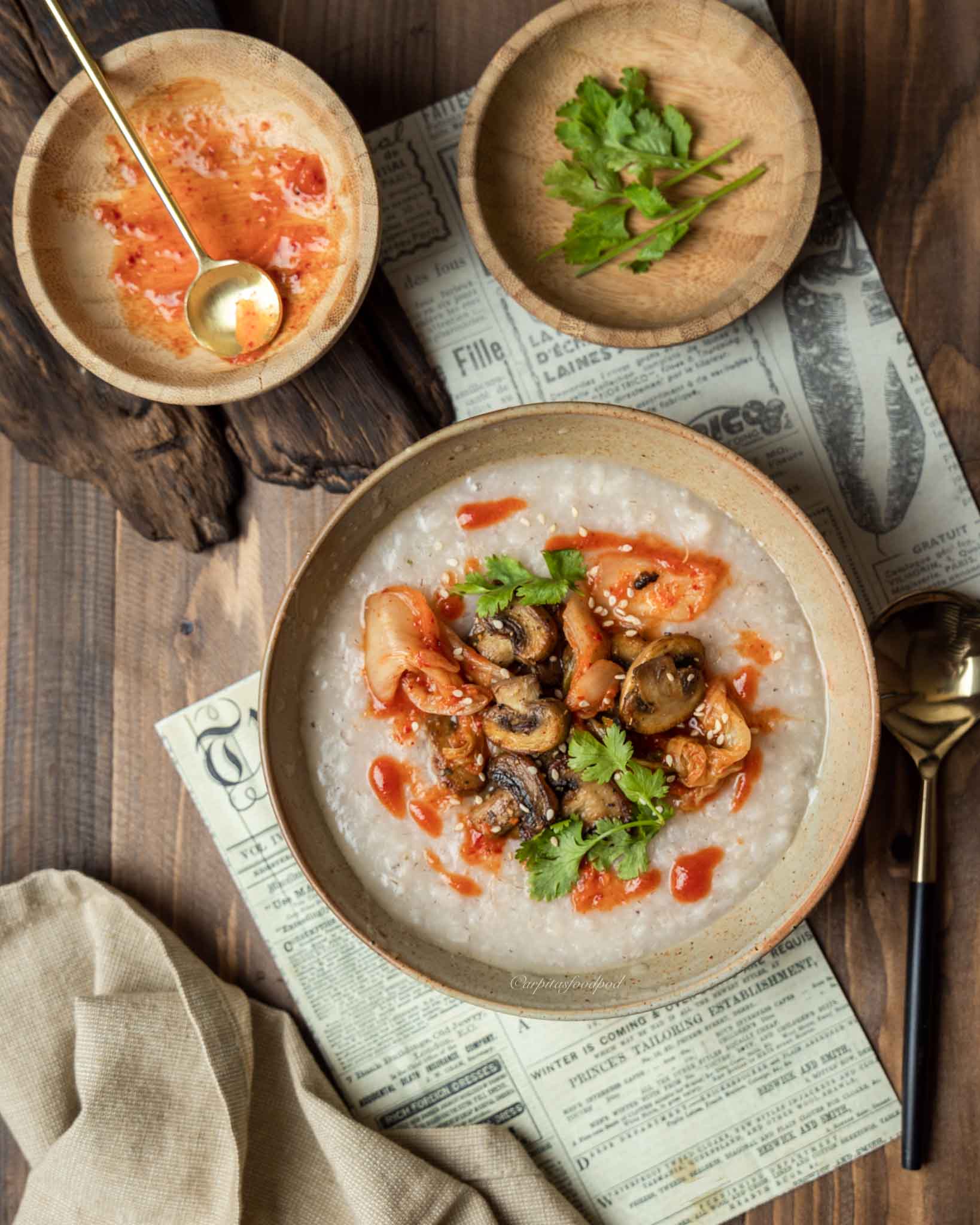 Red Rice Congee.
This is a true definition of comfort food. Rice congee with sautéed mushrooms, kimchi, a slight drizzle of Sriracha and garnished with white sesame seeds and cilantro.
I have used red rice here which takes much longer to break down into a congee, but the outcome of this patience is just superb! Feel free to use white rice which cooks quicker. Leftover rice works great too to make this.
The recipe for sautéed mushrooms is here – Butter garlic & thyme mushroom I have only sliced the mushrooms and changed the seasonings. Feel free to play around with choice of herbs and seasonings.
If you are not fond of mushrooms, there could be a lot of other toppings for congee – Kimchi, Fried onions, spring onions, sautéed or pulled meat, boiled eggs, tofu, pickles of choice, cucumber salad, chilli oil, chutneys, roasted peanuts, sautéed jackfruit and more.
Let me know in the comments section below which one is your favorite.
Recipe – Serves 2 
Ingredients –
1/2 cup red rice if raw, 1 cup rice if cooked.
6-8 cups water
1 cup homemade veggie stock (optional)
Salt to taste
Method 1 –
Put red rice, 2 cups water and salt in a pot on low flame.. Check in intervals and once the water lessens, add 2 more cups water and let it simmer. Continue this step until the rice breaks down into a porridge and comes to desired consistency. Keeping the flame at low at all times is the key here. It might take 45-50 mins or more if using white rice and a couple hours if using red.
Method 2 – 
Pressure cook red rice, salt, water and stock if using to upto 7-8 whistles on medium low flame (a couple of whistles more if using raw red rice). Let the pressure settle naturally and check if the rice is broken to porridge consistency.
Use the desired toppings as mentioned above and dig in!
Enjoy!
Notes – If using white rice, reduce the water quantity and the cooking time.
This red rice congee is such a great meal when feeling under the weather. Do you have a go-to comfort meal too? Tell me in the comments below. You can also connect with me on my Instagram or Facebook handle.