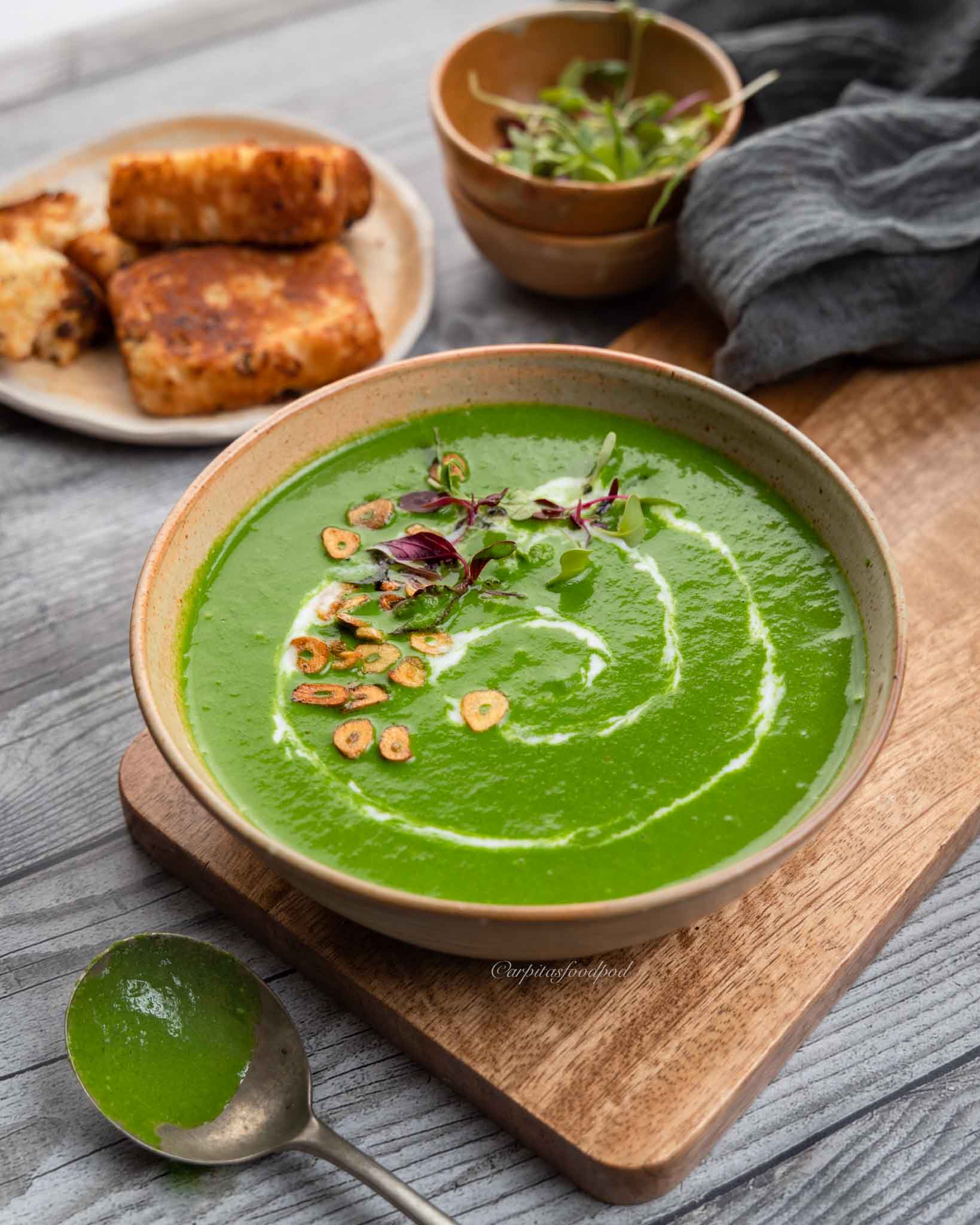 Spinach & Roasted Almond Soup.
One of our go to meals on weeknights is this vegan soup paired with toasted garlic bread. This is so satisfying and easy to make and obviously doesn't require too much time. The bread chunks dipped in this thick soup is one of my favorite ways to eat this meal. 
How to make it?
Ingredients – Serves 2 portions
1.5 cups Spinach – blanched
1 large onion – chopped roughly
5-6 cloves garlic 
8-10 pcs almonds
1/8 cup coconut milk
1.5 tsp cold pressed groundnut oil/coconut oil
Warm water as required.
Salt to taste
3/4 – 1 tsp white pepper powder
Crisp garlic chips to garnish (slice 4-5 garlic cloves thin and then saute in a tsp of oil on medium heat until they turn golden brown and crisp)
Microgreens to garnish (optional)
Coconut milk drizzle to garnish.
Method – 
Blanch the spinach leaves – Boil water in a pot and add 1/2 tsp salt and 1/2 tsp sugar in it. Add the spinach leaves for 3 mins and immediately drain and add them to ice cold water to retain the green colour of the spinach. Drain and keep aside.
Heat oil in a pan and whole garlic. Sauté for a minute and then add almond and sauté for another minute. Mix in the onions and cook on medium low flame until the onions just begin to caramelise (change colour).
Remove from the heat and let it cool down to room temperature. In a blender, blend together – spinach, onion and almond mix with a splash of water. Run it until it's smooth.
Take it back to the pot, and simmer it on lowest flame. Add coconut milk and warm water as per the desired consistency of the soup. Add salt and pepper too.
Let the soup simmer for 4-5 mins on low flame. Taste and adjust seasonings and consistency. 
Transfer it to the soup bowls and garnish with garlic chips, a drizzle of coconut milk and microgreens. You can also add seeds of choice.
Enjoy!
If you like spinach and roasted almond soup recipe, do let me know in the comments below or connect with me on my Instagramor Facebook handles.
You may also like – 
Roasted tomato and garlic soup