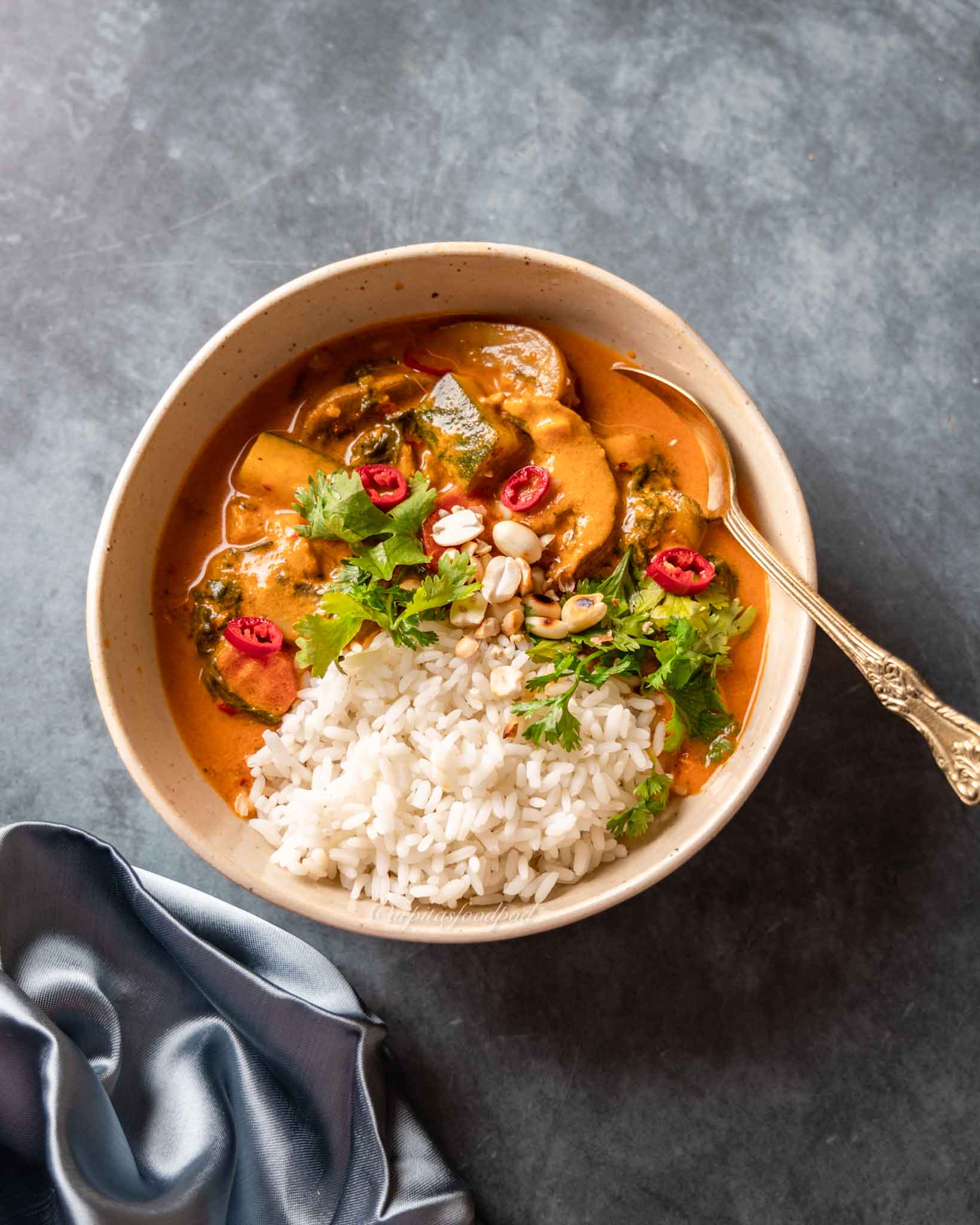 Vegan Thai Red Curry.
Thai flavours works so well with Indian palate. The different curry pastes come handy for a variety of quick meals on busy days or lazy weekends. I am sharing a quick vegan Thai red curry paste and the curry recipe here which is perfected with quite a few trials. 
Usually Thai curry paste is made with raw ingredients but check the recipe below and take your paste to multiple notches up with a little roasted flavour.
How to make it – 
Ingredients – 
Thai red curry paste
1 red bell pepper 
4-5 red long fresh chillies
2-3 Thai red chillies
1/2 tsp roasted cumin powder
1/2 tsp roasted coriander powder
1/2 tsp black pepper
1/2 tsp turmeric powder or fresh turmeric 
1/8 cup lemongrass stalks (not the green part)
1.5 inch ginger or galangal 
4-5 cloves garlic
3/4 tsp sea salt 
1 lemon juice 
1/2 tsp lemon zest
2 kaffir lime leaves (optional, if unavailable increase the quantity of lemon juice by 1 tsp)
1/8 cup spring onions (not the green part)
2 tbsp groundnut oil
3 tbsp water or more if needed
3 tsp coconut sugar/coconut jaggery
For the curry – 
3/4 cup thai red curry paste
2 cups mixed vegetables (I used zucchini, mushrooms, yellow pepper, carrots)
1/8 cup spinach
200-250 ml coconut milk
1 cup water 
1 tsp garlic – chopped
1 tbsp coconut or groundnut oil
Method – 
For the paste – 
Roast the red bell pepper and red long chillies on open flame carefully until charred. Then take them off the flame and keep it covered until it's cool enough to be handled.
Remove the charred skin, deseed the pepper and chillies and roughly chop them. 
Now blend all the ingredients of the curry paste together into a paste. Mix in little more water if needed. Then taste and adjust the flavours.
Use immediately or let it mature for a day in the refrigerator. Use whatever is required to make the curry and store the leftover paste in the refrigerator for upto 7 days or in ice cube trays in freezer for upto 2 months.
Method for making curry – 
Heat oil in a pan, sauté spinach for a min and remove from the pan. Tip in garlic, then sauté until the garlic begins to change colour. Add the mushrooms and let it cook until it sweats and caramelises. Remove from the pan and sauté rest of the vegetable just until they maintain their crunch but are cooked through. Add in the mushrooms and sautéed spinach and the thai curry paste. 
Then sauté the veggies with the paste for 2-3 mins and mix in the coconut milk. Give it all a good mix and then adjust the gravy consistency with water as required. Cover and cook everything for 2-3 mins on low flame.
Garnish with chopped coriander leaves, chopped red chillies and roasted groundnuts.
Serve with steamed rice or rice noodles.
Enjoy!!!
If you like this vegan Thai red curry recipe, please let me know your thoughts in the comments below. You can also connect with me on my Instagram and Facebook handles.
You may also like –