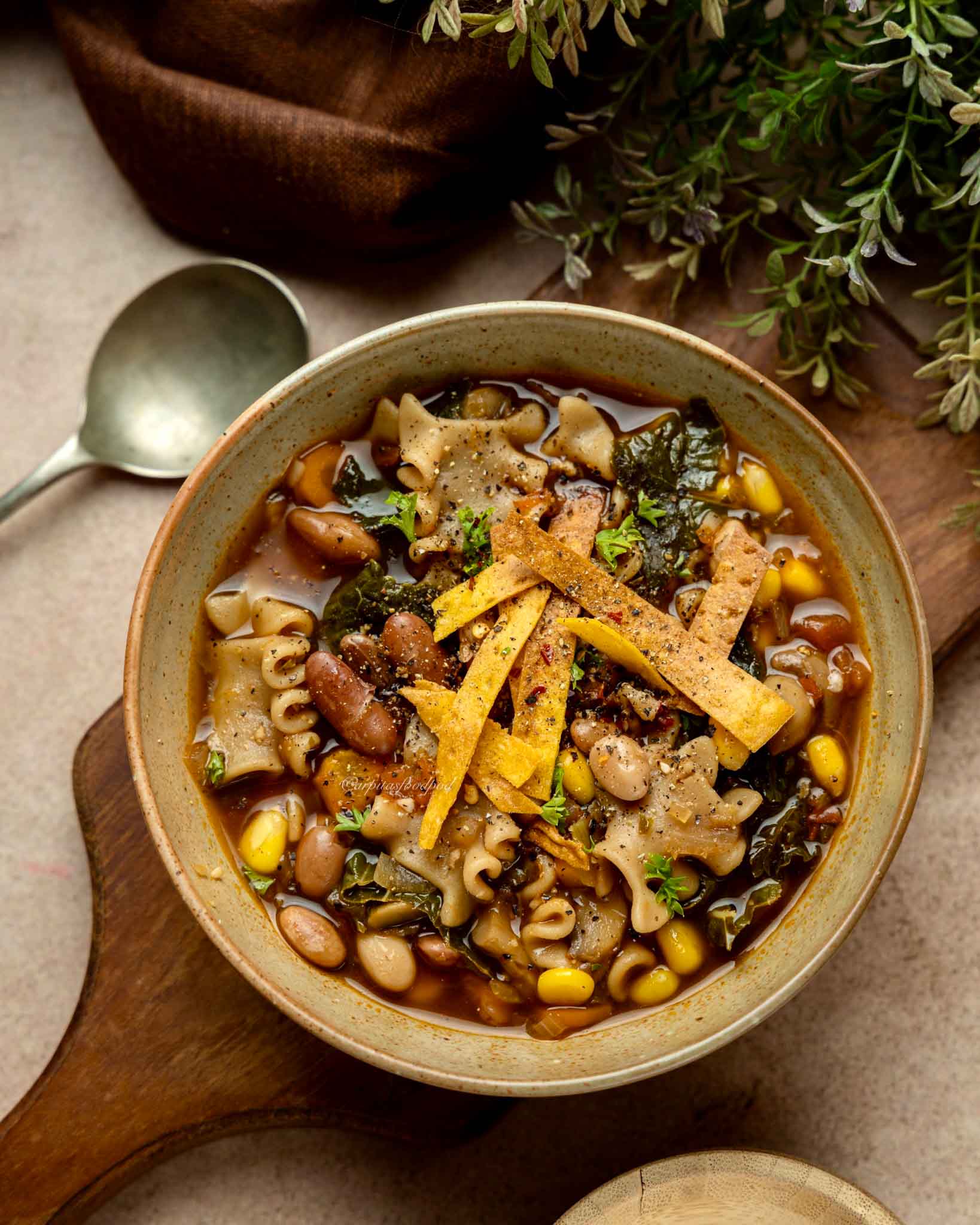 Beans & Kale Soup.
We love one pot meals, not just for the ease of making it but also for how versatile it could be. This soup is loaded with veggies, beans, pasta, kale and simple flavours. Topped with bits of curly parsley and homemade tortilla chips, this is a great meal. Personally, it was very comforting for me while my throat was fighting an infection.
How to make this – 
Ingredients – serves 4
1 onion – finely chopped
2 small tomatoes – finely chopped
1 green chilli – finely chopped
1 inch ginger – finely chopped
7-8 cloves garlic – minced
1 small carrot – sliced thin
6-7 button mushrooms – sliced
3 tbsp sweet corn – frozen
7-8 Tuscan kale leaves – stems removed
1/2 cup kidney beans (I used fresh rajma, chitra rajma and red rajma) – dried ones soaked overnight
1/3 cup pasta of choice
1 tbsp parsley – chopped
2 twigs of fresh thyme
Salt to taste
1 tsp cumin powder
1/2 tsp garam masala
1 tbsp sugar
1 tsp soy sauce
1 tbsp tomato ketchup
2 tbsp olive oil
2.5 cups water
To garnish – Chopped parsley, Baked homemade tortilla chips, black pepper and red chilli flakes.
Method – 
Heat oil in a stock pot. Add ginger, garlic and green chillies and sauté for a min. Mix in onions and continue to cook on medium low flame.
Add carrots and mushrooms and let increase the flame. Cook everything for 3-4 mins and then add tomatoes and continue to cook until the tomatoes turn mushy, approx 5-6 mins more.
Then mix in salt, cumin powder and garam masala. Mix everything and add the soaked beans and fresh beans if using. Now add the water, kale, sauces, sugar, thyme, then cover the pot and let it cook on low flame for 20 mins. Now add the pasta and parsley, cover and cook for another 15 mins. Check if the beans and pasta are cooked as desired or else continue to cook it further. Keep the flame low.
Taste and adjust the seasoning. Garnish and serve hot.
Enjoy!
If you like this beans & kale soup recipe, do let me know in the comments below or connect with me on my Instagram or Facebook handles.
You may also like –
Roasted tomato and garlic soup