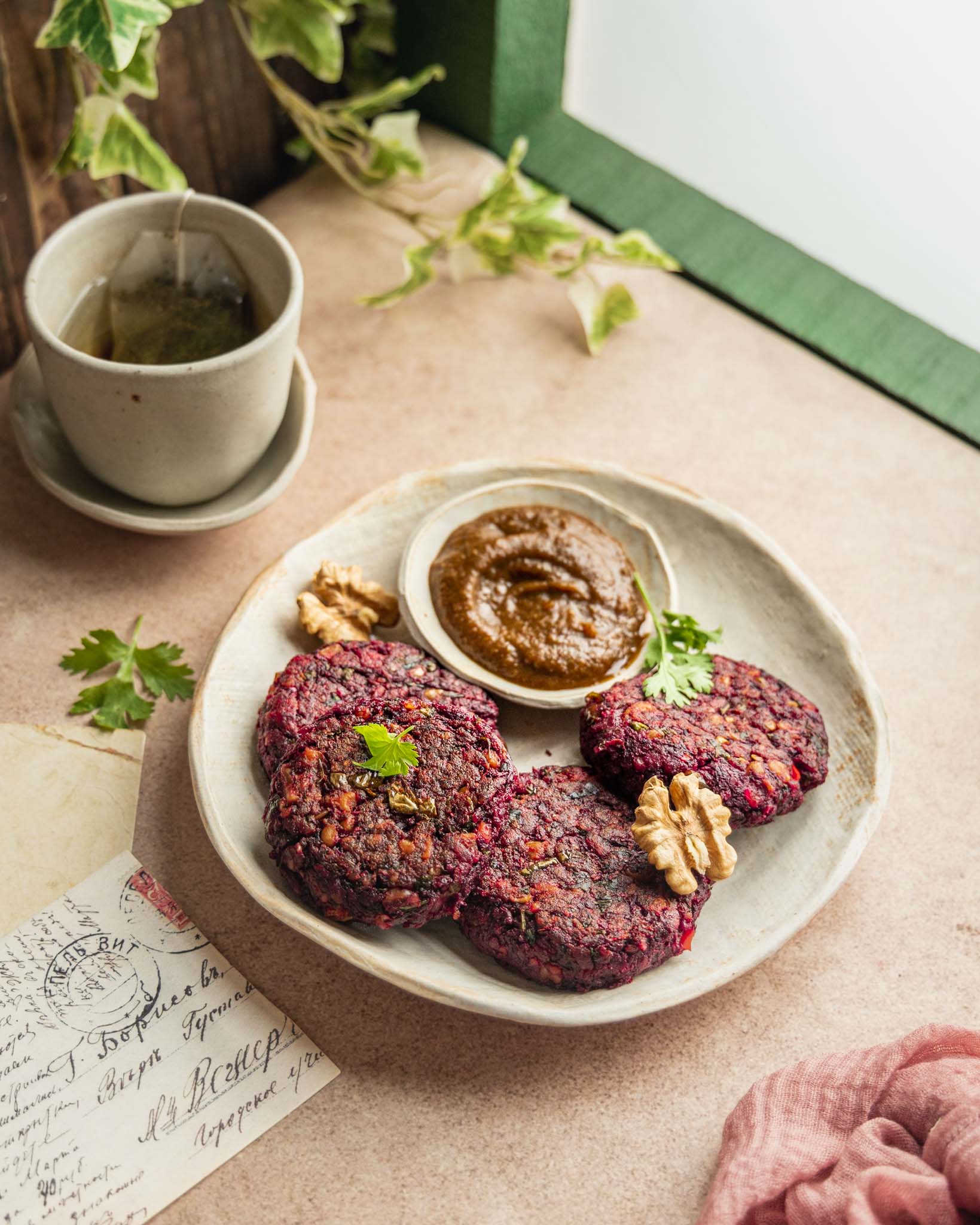 Beetroot & Walnuts Tikki.
I am a hoarder; not for things but memories. In this era of digital wishes and emails, I still hoard my letters and greeting cards from the days when the word 'online' didn't exist. The simple pleasure of life is to sit with them, read them all over again, sip on my fav beverage and munch on some freshly made snacks. Beetroot and walnuts tikki is healthy, nutritious, quick to make and makes a great patty option for sandwiches or rolls.
I paired it with freshly ground amla (Indian gooseberry) and dates chutney and hot cuppa peppermint tea. 
How to make these – 
In a wide bowl, mix together – 1 cup grated beet root, 1/4 cup beetroot leaves (optional), 1/3 cup grated or mashed potatoes, 1/3 cup rinsed poha, 1/4 cup chopped coriander leaves, 2 tbsps chopped fresh mint, 1/4 cup breadcrumbs, 1/4 cup chopped walnuts, 2 tsps salt or to taste, 2-3 finely chopped green chillies, 1.5 tsps grated ginger, 1 tsp amchur powder, 1/2 tsp red chilli powder.
Mix them all well and shape into 8 small round tikkis. Heat oil in a griddle and roast them on medium low flame from both sides until they look crisp and done (takes about 7-8 mins on each side). If you have a large griddle, this could be done in just one or two batches.
To make the amla and dates chutney – grind together – 1/4 cup boiled and chopped amlas, 1/4 cup mixed coriander and mint leaves, 7-8 pcs soaked seedless dates, 3/4 tsp salt or to taste, 1 tsp fennel seeds, 1/2 tsp black salt, a couple of ice cubes and 1 tbsp cold water.
Enjoy!!!
If you like this beetroot & walnuts tikki recipe, please let me know your thoughts in the comments below. You can also connect with me on my Instagram and Facebook handles.
You may also like –