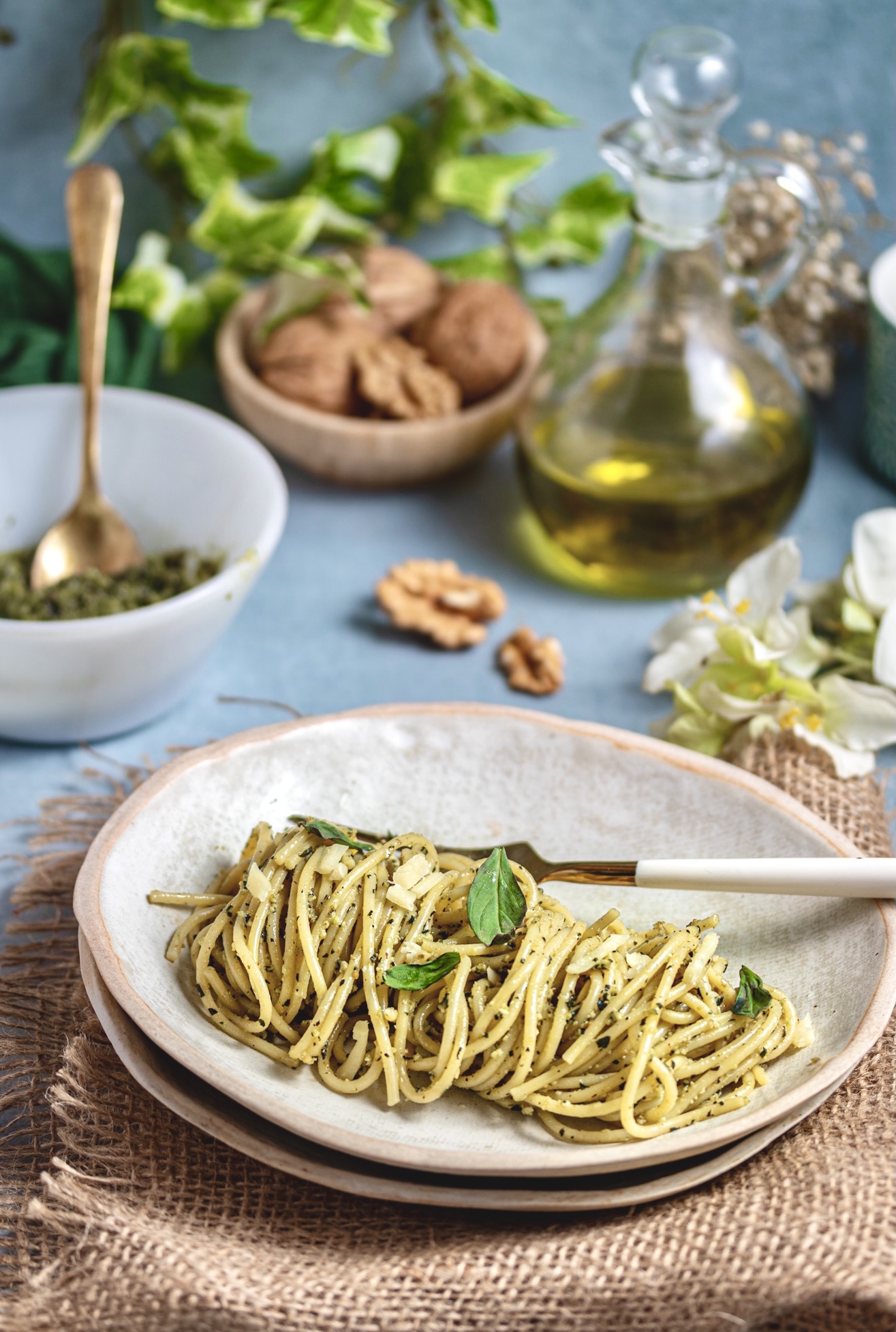 Classic Pesto Pasta
When the meal comes together in less than 30 minutes, and is super satisfying. This is such a fresh and flavourful dish, versatile, and easy to make. 
When i made pesto for the first time, I used the food processor. As I learnt and spent more time perfecting it, the game changer for me was hand pounding the pesto sauce. I also use a mix of Italian basil and sweet basil, thus making the pesto a bit less sharp. Sweet basil gives a nice hint of mint and tarragon to the sauce. Even though this classic is my favourite, I am definitely going to try using more greens while making pesto.
Traditionally pine nuts are used for making basil pesto, but this versatile recipe tastes wonderful with any nuts like walnuts, almonds or pistachios. Olive oil doesn't add any flavour but a beautiful rich consistency. Mix this sauce with freshly boiled pasta and add some more basil and grated Parmesan on top and enjoy!!!
If you like this classic pesto pasta recipe, do let me know in the comments below. You can also connect with me on my Instagram and Facebook handle.
You may also like – 
Roasted tomato and Chickpea Pasta
Pesto Pasta
Herby, nutty, flavourful and super easy and quick recipe
Ingredients
Pesto sauce
1/2

Cup

Italian basil

1/2

Cup

Sweet basil

Use 1 cup Italian basil if this is not available.

1/3

Cup

Walnuts

4

Cloves

Garlic

1/3

Cup

Parmesan cheese

Grated

1/3

Cup

Olive oil

Extra virgin

Salt to taste

Black pepper to taste

Crushed

1/2

Tsp

Lemon juice
Instructions
Boil pasta as per packet instructions, drain, mix in a little olive oil with spaghetti to avoid sticking.

In a pan, dry roast walnuts for 2 mins. Take it out and in the same pan dry roast garlic for another 2 mins. Let it cool to room temperature.

Use mortar and pestle to grind the sauce together - add basil, walnuts, garlic, salt, pepper and Parmesan. Add oil in intervals until it all comes together into a coarse paste. Add lemon juice and mix it all well.

Alternatively you can use a food processor or chopper and crush them in small whizzes, while scraping the sides and adding olive oil in intervals.

In a mixing bowl, mix desired quantity of pasta sauce with spaghetti and garnish with more grated Parmesan and basil.

Keep left over pesto sauce in the fridge in an airtight jar for upto 3 days.

Enjoy!!!