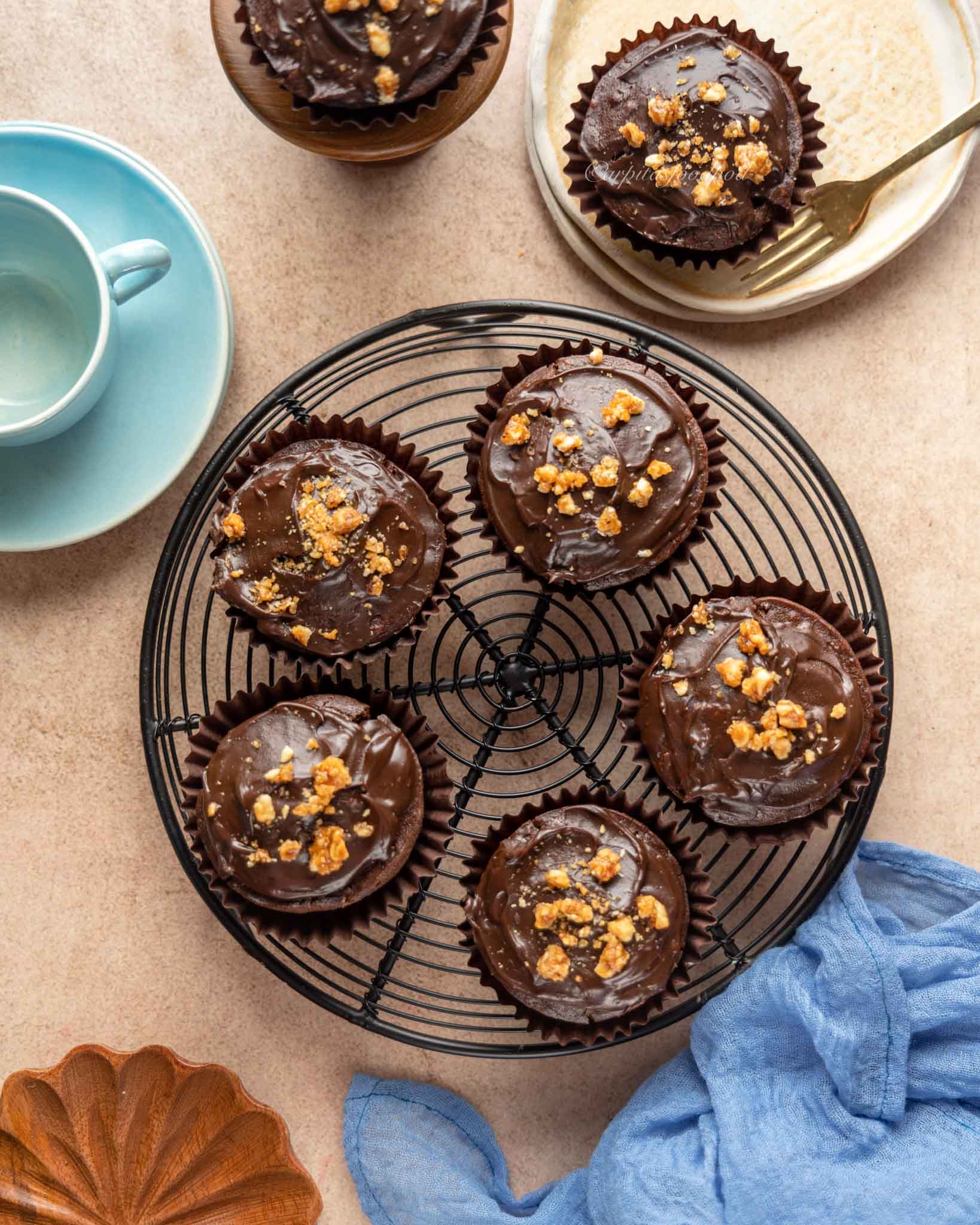 Eggless Triple Chocolate Muffins.
I have been baking chocolate muffins ever since I learnt how to bake, like almost 8 years now. Even though I have used eggs most of the times, I am super pleased to finally perfect the recipe of eggless variation. The texture and taste is absolutely non compromised and trust me, kids and adults will love it alike.
How to make this – Makes 10 muffins 
Ingredients – 
1 and 3/4 cup all purpose flour
1/2 cup unsweetened cocoa powder
1 tbsp and 1/2 tsp instant coffee powder
1 and 1/4 tsp baking powder
3/4 cup warm milk
3/4 cup raw sugar (add 1/2 cup more if you don't want to frost the muffins)
1/2 cup yogurt
1/2 cup neutral oil
1/3 cup dark chocolate couverture – chopped in chunks
1 chia egg ( Mix 1 tbsp chia seeds in 3 tbsp water with a fork. Soak it for 5 mins and it becomes like a jelly. Use it to replace 1 egg in the recipe).
For frosting – 
1/2 cup fresh cream
1 cup dark chocolate couverture 
1/2 tsp instant coffee
For hazelnut praline – 
1/8 cup roasted hazelnuts – crushed
1/4 cup raw sugar
Method – 
Whisk/seive the dry ingredients like flour, baking powder, cocoa powder and coffee powder together.
Whisk sugar and oil for a minute and add and whisk in the rest of the wet ingredients. Fold the dry mix into the wet mix gently. Do not over mix here.
Add and fold in the chocolate chunks.
Line a muffin tray with either melted butter or muffin liners. Scoop the muffin batter into them and bake in a preheated oven at 170 C fan assisted for 15 mins or until the skewer test comes out clean.
While the muffin bakes, make the simple frosting.
Finely chop the chocolate. Heat/simmer cream in a pan (don't let it boil) and pour it over the chopped chocolate. Let it rest for a minute and then whisk the cream and chocolate together until the chocolate melts completely. Put it in the refrigerator for 5 mins.
To make the hazelnut crunch, in a non stick pan, melt sugar on low flame. Mix in the crushed hazelnut and pour it over a tray lined with parchment paper. It would harden as it cools down. Crush it with a mortar and pestle.
Once the muffins are baked, leave them on a cooling rack to cool down to room temperature. Frost them with the chocolate frosting and top them up with crushed hazelnut praline.
Enjoy!
You can store the muffins in an airtight container for 3 days.
If you like this eggless triple chocolate muffins recipe, do leave me a comment below. You can also connect with me on my Instagram and Facebook handle.
You may also like – 
Whole wheat chocolate and banana loaf