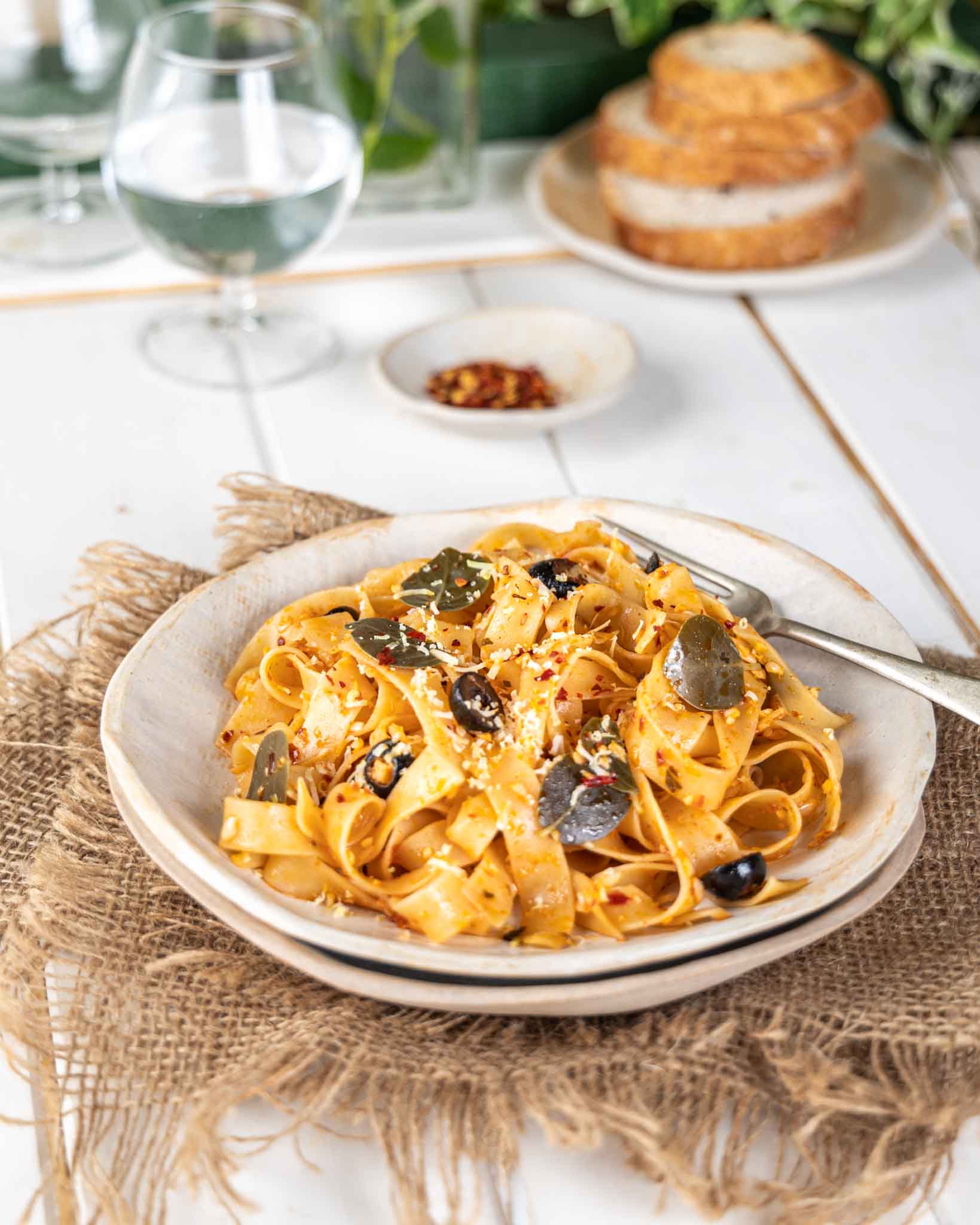 Fettuccine Aglio e Olio.
My go-to meal when I am running low on veggies and kitchen supplies. This recipe is forgiving enough and I love to make it with any pasta available in my pantry. Though nothing beats the look of a spaghetti in this recipe form, I do not mind fettuccine too at all.
Also, traditionally no sauce is added in this pasta recipe, but I like to make food that I love to eat. So a tbsp of garlic chilli sauce is added to make it even more flavourful. However, that is completely optional.
How to make this – 
Ingredients- Serves 2 people
2 portions pasta of choice (I use spaghetti or fettuccine for this)
2 tbsps garlic – sliced
1-2 tsp red chilli flakes
4 tbsps olive oil – extra virgin
1 tbsp garlic chilli sauce
Black olives, sun dried tomatoes, capers and caper leaves – optional
Parmesan cheese and toasted breadcrumbs to garnish (optional but recommended)
1/2 cup reserved pasta water (water in which pasta was cooked)
Salt to taste
Method – 
Boil/cook pasta as per the packet instructions.
Pour olive oil in a pan and add garlic and red chilli flakes (don't wait for the oil to heat up before adding garlic and chilli). Sauté until the garlic changes colour. Add the chilli garlic sauce and salt and mix well.
Mix in the pasta water and let it cook for a min. Toss in the cooked pasta, olives, capers and caper leaves if using. I like the acidity these provide to the pasta. I also add chopped parsley sometimes based on the availability of it.
Garnish with grated parmesan and toasted breadcrumbs.
Enjoy!!!
PS. – Rinse the capers and olives soaked in brine before adding them to any recipe.
If you like this Fettuccine Aglio e Olio pasta recipe, do let me know in the comments below. You can also connect with me on my Instagram and Facebook handle.
You may also like – 
Roasted tomato and Chickpea Pasta