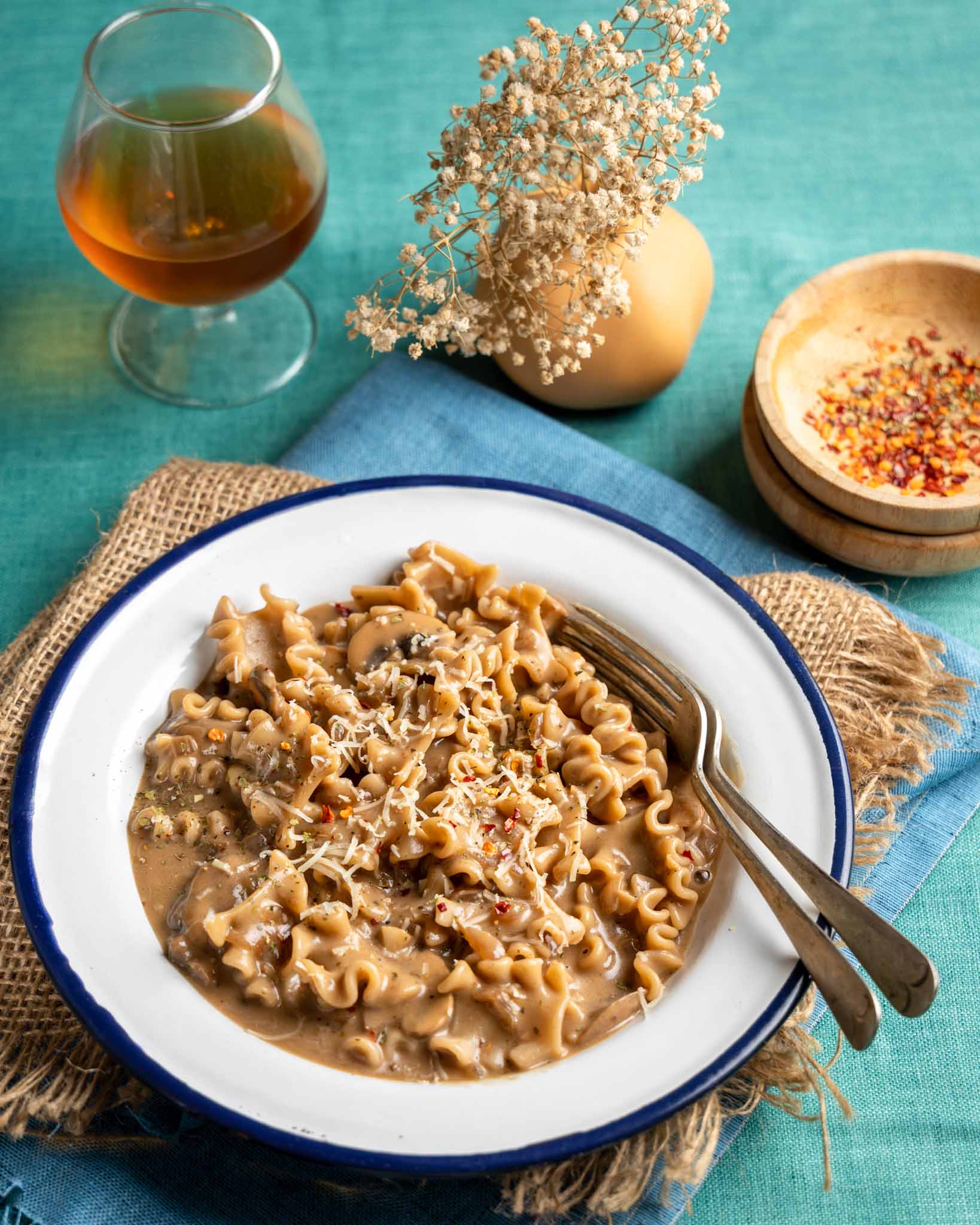 Mushroom Stroganoff Reginetti Pasta.
Last few months of travels and stay abroad, kept me away from the blog. But the good part is when you travel, you bring back variety of food culture learnings with you. I will try to re-create some of my favorite food which I explored and loved.
To start with is this vegetarian Reginetti pasta in buttery herb-y mushroom sauce. I love to explore and pick up local food and this pasta is sure a delight to cook with. Works perfect with any sauce! However, feel free to use any pasta of choice which you may have in your pantry.
Recipe – serves 2
Ingredients – 
2 portions whole grain pasta
8-10 button mushrooms – cleaned and sliced
1 medium sized onion – chopped
7-8 cloves garlic – minced
1/2 tsp mixed herbs
1/2 tsp red chilli flakes
For the sauce – 
200 ml coconut milk/almond milk (i used coconut milk)
1.5 tbsp butter/olive oil
1.5 tsp soy sauce
1 tsp balsamic vinegar
1/4 cup homemade veggie stock
2 tsp cornflour
1.5 tsp Dijon mustard
Method – 
Boil water to cook the pasta. Make that pasta water salty! Almost like sea water. Cook the pasta until al Dante. Drain and reserve 1/2 cup pasta water.
Heat butter and sauté onion and garlic until they change colour. Add in the mushrooms and sauté until mushrooms turn caramel brown colour on medium heat.
Mix all the sauce ingredients together and mix in the mushrooms (scrape the pan to deglaze, that would add a lovely flavour to the sauce).
Let the sauce simmer for 3-4 mins. Add reserved pasta water if the sauce is too thick.
Mix in the pasta, chilli flakes and mixed herbs.
Garnish with chilli flakes and grated parmesan.
Enjoy!!!
Notes – I did not use any additional salt in this recipe except while boiling the pasta.
If you like this mushroom stroganoff reginetti pasta recipe, do let me know in the comments below. You can also connect with me on my Instagramand Facebook handle.
You may also like –