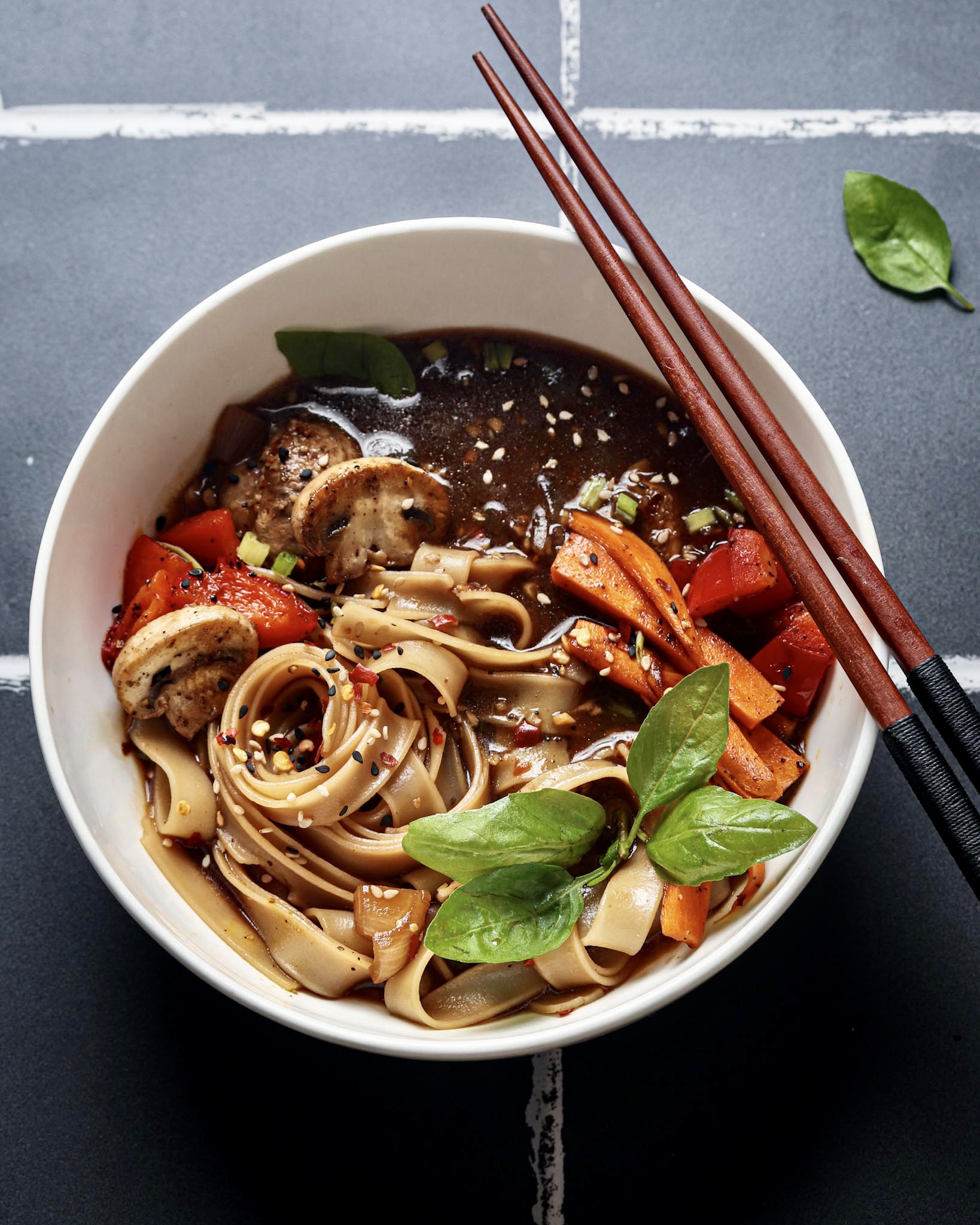 Noodles in Ginger Broth.
Another day and another noodles. Our love for noodles is evident with the number of times we make it in a month. Trying different options, flavours and varieties of noodles is something we look forward to.
Every time I try something different in noodles I remember my school days. There was a friend of mine whose mum used to make amazing noodles for her lunch box. We didn't share our lunch boxes often, but during group lunches I always jumped at those noodles in her box. And every time I ate that I craved for more. I used to come back home and ask my mom to make the exact noodles but could never explain to her what I exactly was craving for and my mom would try different kinds of noodles to please me. Every trial of my mum was amazing but it couldn't replicate the exact thing. There was no such thing as WhatsApp moms group at that time where she could go and ask for help for the exact recipe. Ah! I miss those simple days.
I make this vegan meal with homemade ginger and garlic broth, sautéed vegetables, fresh herbs and rice stick noodles. The addition of star anise in the broth gives it a beautiful and mild aniseed flavour which balances the ginger well. Love to garnish it with toasted sesame seeds, red chilli flakes and some spring greens. 
This is such a simple, comforting and flavourful meal to come together. 
If you like this recipe of noodles in ginger broth, please let me know in the comments below or connect with me on my Instagram and Facebook handles.
You may also like – 
Vegan Balsamic & Basil Mushrooms with Soba Noodles
Hot & Spicy Chilli Garlic Noodles
Noodles in Ginger Broth
Vegan, delicious, easy to make, comforting meal.
Ingredients
2

Portions

Rice stick noodles

Or any noodles of choice

100

Gms

Mushrooms

Sliced

1

Pc

Onion

Cubed

1

Pc

Carrot - medium size

Sliced

1

Pc

Red bell pepper - small

Cubed

2

Tbsp

Garlic

Minced

3

Tbsp

Ginger

Minced

1

Tbsp

Soy sauce

1

Pc

Star anise

1.5

Tsp

Rice vinegar

or apple cider vinegar

1/2

Tsp

Sugar

3.5

Cups

Water

or veg broth

Salt and black pepper

As required

1.5

Tbsp

Olive oil
Garnish
Spring greens

Toasted sesame seeds

Red chilli flakes

Basil leaves
Instructions
Soak the rice noodles as per the packet instructions.

In a pot, add 2 tsps olive oil, sauté ginger and garlic until it begins to change colour. Add onions and let it cook until it becomes translucent.

Add in the water and let it come to a boil. Add soy sauce, star anise, a tsp of black pepper, vinegar salt and sugar. Cover and let it simmer for 15 mins.

Meanwhile, in a pan add a tsp of olive oil and sauté sliced mushrooms on medium high flame until they turn a bit soft and charred from the edges. Add a bit of salt and black pepper. Mix and remove from the pan.

Add another tsp of olive oil and sauté carrots and red bell peppers on medium high flame until they look cooked but maintain their crunch. Add a little salt and mix. Remove from the pan.

In the broth add the noodles and let it simmer until the noodles are cooked in the broth.

Taste and adjust seasonings in the broth.

Assemble - add noodles in a bowl, pour in a ladleful of broth ot two, add the sautéed vegetables and garnish.

Enjoy!!!