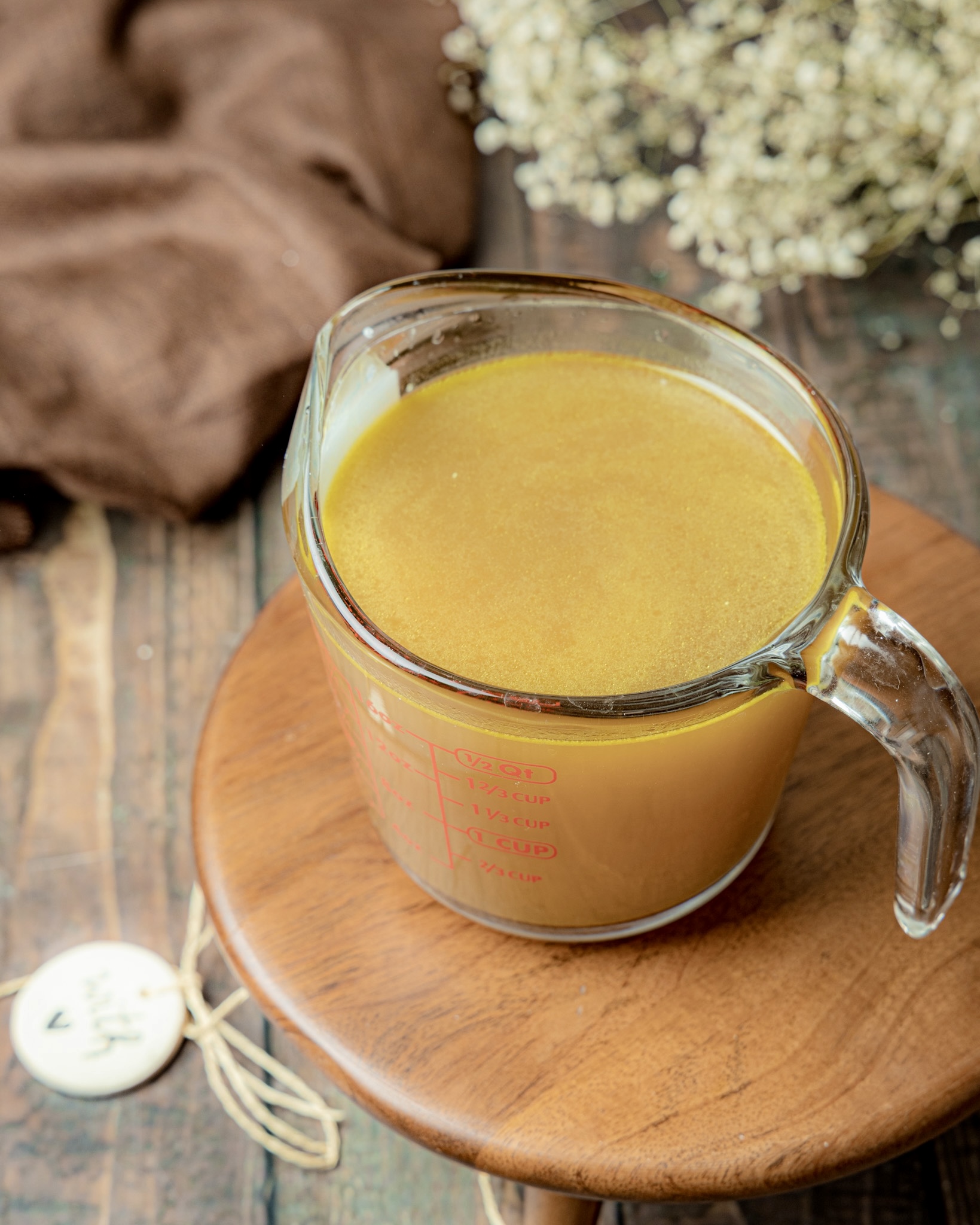 Vegetable Broth | Veg Stock.
It's the soup and stew season and what could be better than homemade broth to form a perfect base for the soups or stews. I have used store bought bouillon for a long time but the sodium content in those made me rethink of my choices. This broth is super flavourful and can be stored in freezer for upto 3 months.
How to make this – 
Ingredients – Makes 2.5 cups of broth
2 medium sized onions – roughly chopped
7-8 cloves garlic – minced
1 inch ginger – minced
1 green chilli
3 small carrots – sliced thin
1/3 cup button mushrooms – sliced
3 dried shiitake mushrooms – optional
Salt – generous sprinkle
2 sprigs thyme
1/2 star anise
1 tejpatta
7-8 whole black peppercorns
1/4 tsp turmeric powder (optional)
Handful of coriander stems (no leaves)
1.5 litres of water
1.5 tbsp extra virgin olive oil
Method – 
Heat olive oil and put in the tejpatta, star anise and whole black peppercorns. Sauté for a few seconds and add the ginger, garlic and green chilli and continue to cook for another couple mins. Now add the onions cook for 2-3 mins and add the carrots and mushrooms.
Sauté everything on medium high flame for 3-4 mins and then mix in the water. Then add thyme, turmeric powder, salt and coriander stems. Let the water come to a boil, lower the flame to minimal, cover the pot and let it simmer for approximately one and half to two hours. Sieve the mix and separate the broth. Use the remains and suggested below –
Once the broth is simmered and sieved to separate the broth, churn the veggie remains (take off the star anise and tejpatta), add salt, garam masala, cumin and make a soup out of it or use in the gravies. The umami is unbeatable!
The broth can stay in the refrigerator for 3-4 days in a clean airtight container or in the freezer for 3 months. I freeze them in ice cube moulds and then I store the cubes in the freezer safe zip lock. Its easier to add the quantity to my recipes as required instead of thawing the whole thing every time.
Traditionally celery is also added to the broth. Since I don't like the strong flavour of celery I don't add that to my broth. Feel free to add if you prefer.
If you like this vegetable broth | veg stock recipe, do let me know in the comments below or connect with me on my Instagramor Facebook handles.
You may also like the soup recipes below –
Roasted tomato and garlic soup