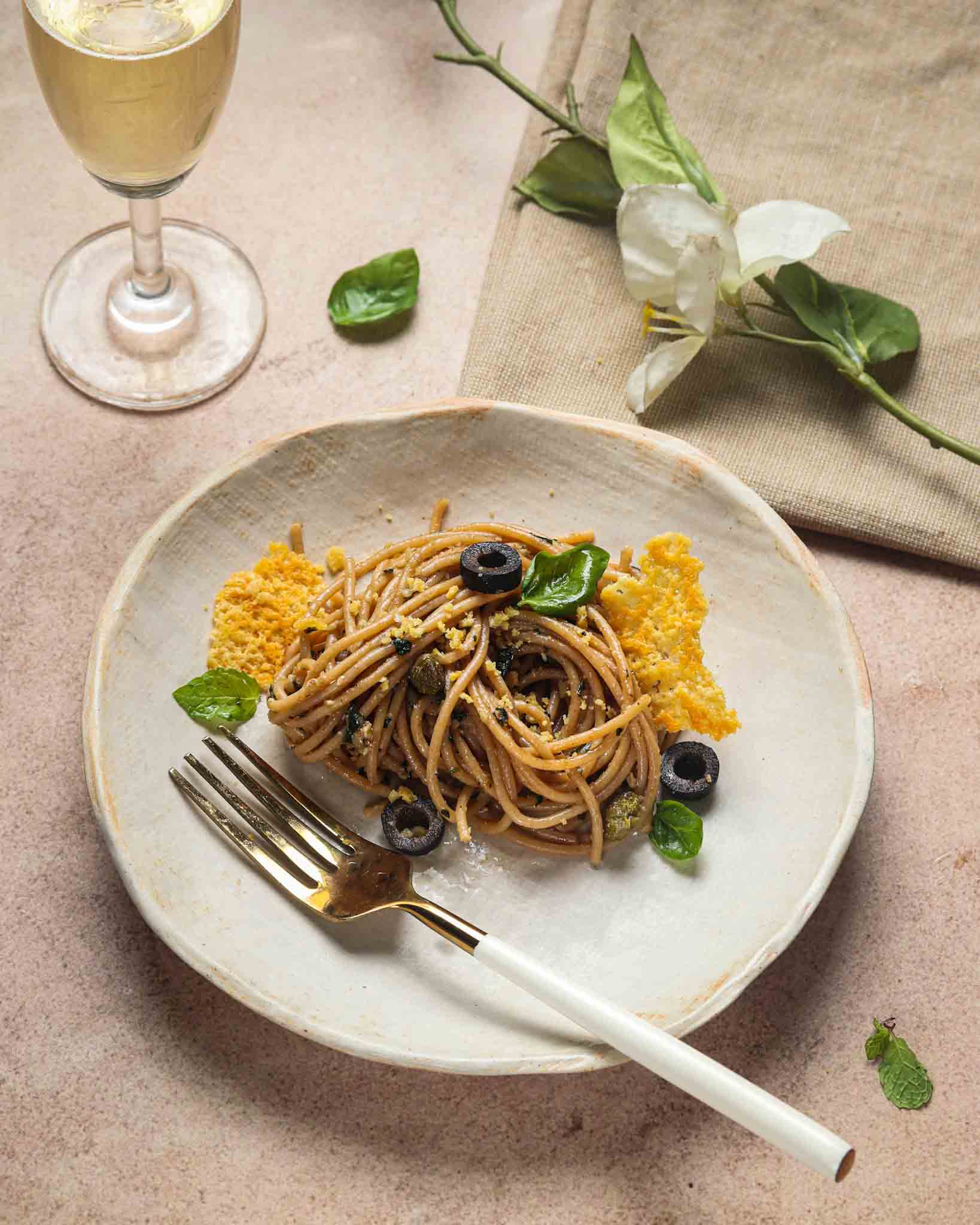 Basil & mint pesto pasta with Parmesan crisps.
This is a perfect simple date night meal. You don't need to spend hours in the kitchen to impress your partner. A simple pasta with some cheese crisps, and wine does it all. Get your partner to hand pound the pesto while you put the pasta to boil and the Parmesan to crisp in a pan (Recipe here), or reverse the roles 😆.
This pesto sauce is primarily made with basil, mint leaves, pine nuts or walnuts, Parmesan cheese, extra virgin olive oil and seasonings. I usually add spinach or other greens along with basil in my pesto and this time, used mint with basil. I like how the mint balances the sharpness of basil. Adding more walnuts which is lightly roasted, to give it a more nutty flavour than a herby taste. A few lightly roasted garlic cloves and adding the unconventional green chillies takes the flavour to a whole new level by adding mild heat. Adding additional Parmesan crisps is optional but we loved it.
I have made pesto multiple times and so far the hand pounded one rules the process preference and the taste buds. If short on time, use a chopper or food processor for a quick pesto sauce.
I have kept the image monotonous with green as the pop of colour.  This is calm and romantic for me. Do you like bright and bold colours or you prefer the mild tones to feast your eyes on?
If you like this basil & mint pesto pasta recipe and image, please let me know in the comments below. You can also connect with me on my social media handles.
You may also like –
Roasted Tomato And Chickpeas Spaghetti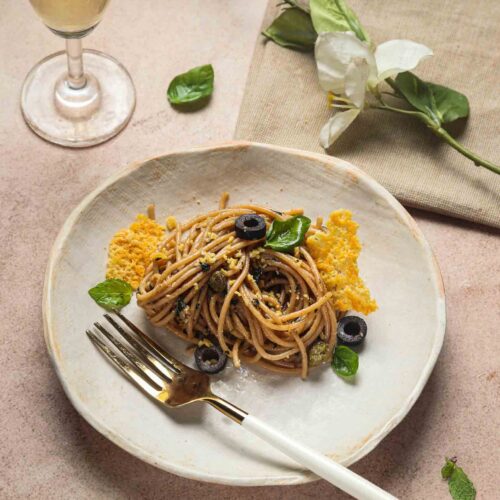 Basil & Mint Pesto Pasta
Quick, romantic date night dinner. Simple and delicious.
Ingredients
2

Portions

Spaghetti - Whole wheat

3/4

Cup

Basil

1/3

Cup

Mint leaves

2

Pcs

Green chillies

1/3

Cup

Walnuts

4-5

Cloves

Garlic

1/3

Cup

Parmesan cheese

Salt & crushed black pepper

To taste

1/3

Cup

Olive oil

Extra virgin
Instructions
Cook Spaghetti as per packet instructions. Drain, mix in a little olive oil with spaghetti to avoid sticking.

In a pan, dry roast walnuts for 2 mins. Take it out and in the same pan dry roast garlic for another 2 mins. Let it cool to room temperature.

Use mortar and pestle to grind the sauce together - add basil, mint, green chillies, walnuts, garlic, salt, pepper and Parmesan. Add oil in intervals until it all comes together into a coarse paste.

Alternatively you can use a food processor or chopper and crush them in small whizzes, while scraping the sides and adding olive oil in intervals.

In a mixing bowl, mix desired quantity of pasta sauce with spaghetti and garnish with more grated Parmesan and basil.

Keep left over pesto sauce in the fridge in an airtight jar for upto 3 days.

Enjoy!!!